Cowboy & Widow, A Honkytonk Musical
By Belville Productions
Directed by Lynn Lohr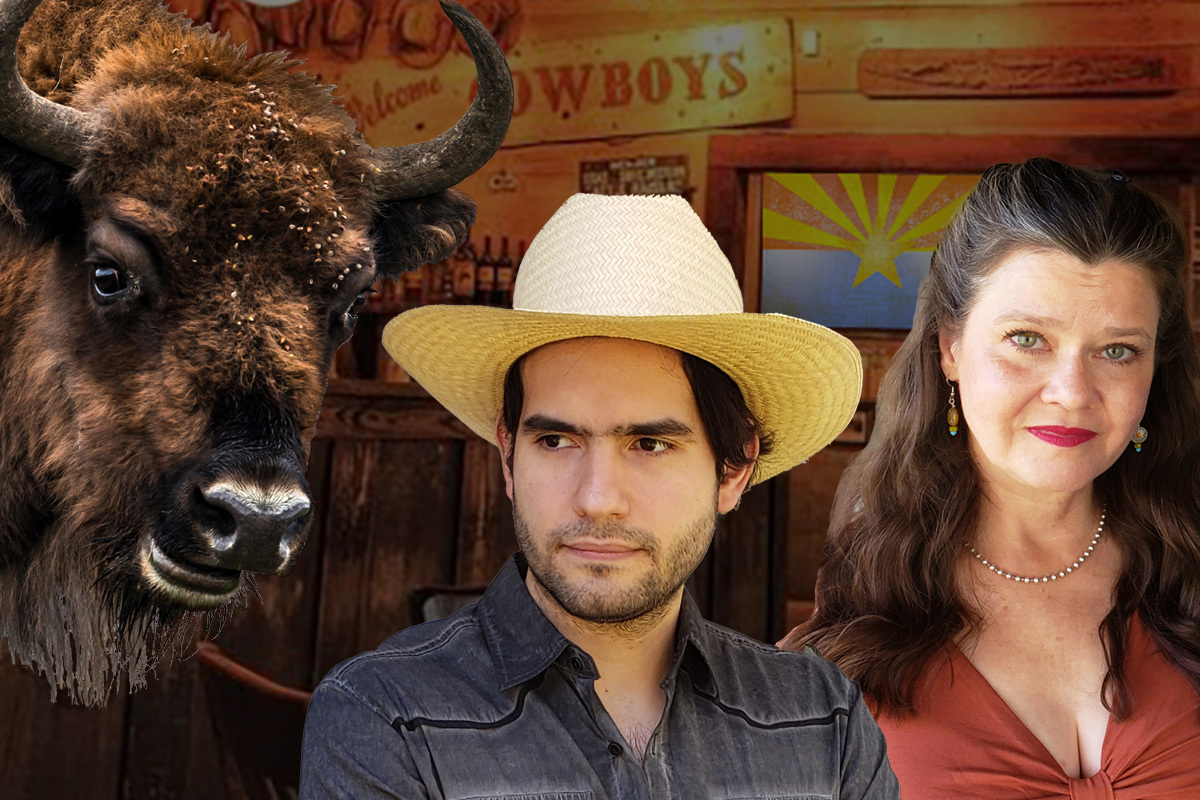 Playing at
Show Description
Set in a bar in the New West, it's a love triangle of rich widow, rodeo cowboy and trained buffalo. Three actors and Eric Peltoniemi on guitar use four songs to help tell a tale torn from the headlines.
Genre and Content
Content Warnings
Adult language
The creators say this show is appropriate for ages 12-15 and up
Learn How To Fringe
Seat Reservations and Show Tickets
| Date | Time | Ticket Options | Quantity | Purchase |
| --- | --- | --- | --- | --- |
Reviews
Video Trailer
Cast and Crew
More Information
The Story Behind the Story
A few decades ago, playwright Lance Belville crisscrossed the Southwest with songwriter/balladeer Dolan Ellis as they researched and wrote History Theatre's Cowgirls.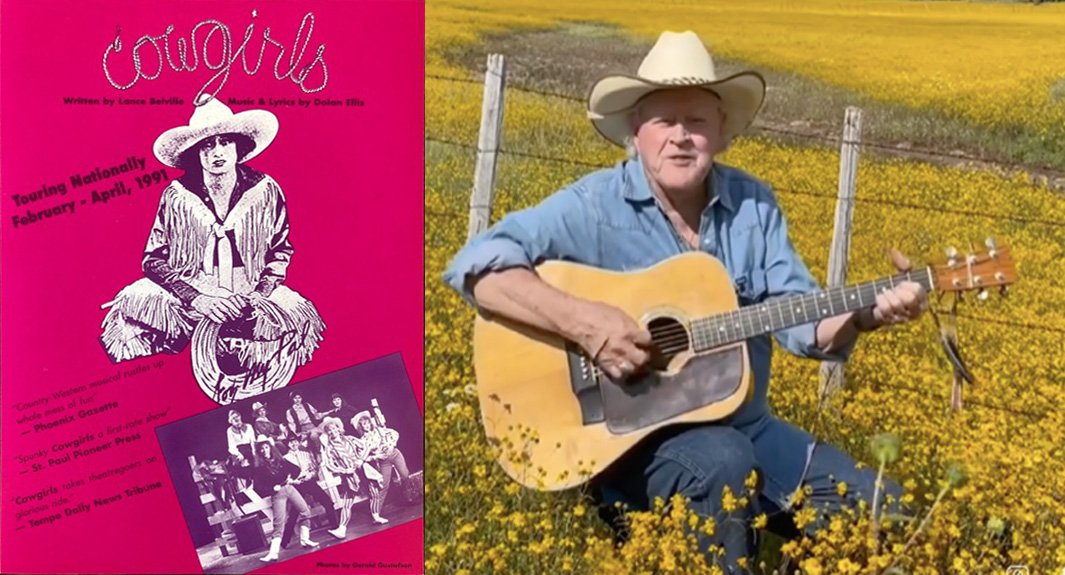 Dolan's knowledge of Arizona lore is encyclopedic and that is where Lance first heard the romance/mystery that inspired the play, Cowboy & Widow.
The play wouldn't get written until late 2019, however, after Belville called up three of his favorite composers, Eric Peltoniemi, Wayne Hamilton, and of course, Dolan Ellis. In March 2020, Lance died of congestive heart failure, but not before he got to hear actors read the finished play with all the songs in place.
In June 2021, Belville Productions workshopped the play in "porch performances" in St. Paul, pictured here.
Almost all of the principals, except actor Raúl Arámbula (pictured above), had met through the History Theatre, co-founded by Lynn Lohr and Lance Belville. Tom Berger and Lynn were fortunate to connect with Raúl through Minnesota Fringe's very helpful 2021 online auditions. Raúl's contributions to the workshop process were of great value.
The next newest connection is composer Wayne Hamilton. As a former member of History Theatre's Board of Directors Wayne got to know Lynn and Lance in 2017 as he was putting together the website https://historytheatre-first40.com/ in celebration of the Theatre's 40th Season. This treasure trove of chronological cast and crew lists and photos holds info not only from Lynn and Lance's 15 year tenure, but also the 25+ years of Artistic Director Ron Peluso's leadership.
Wayne then would join Lynn and actor Jay Nickerson onstage for Lance's Atlanta Burning, Sherman's Shadows, 2018 Minnesota Fringe, playing and singing as a Union sergeant even though he grew up in Virginia!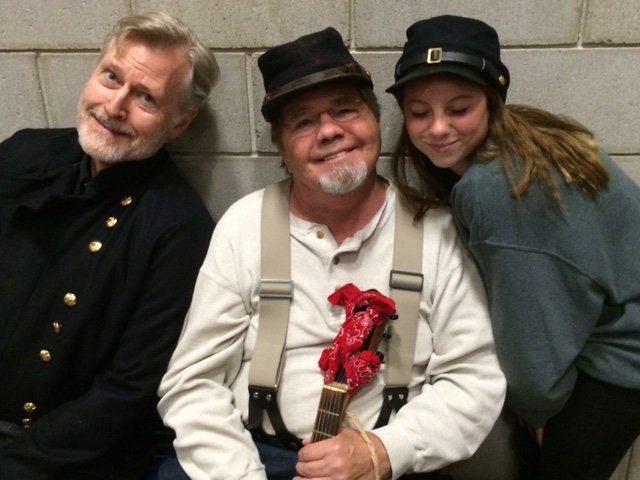 Actor Jill Whitney-Birk had worked with Lynn, Lance and Tom on three History Theatre shows from the 1990s, Scott and Zelda, The Beautiful Fools, The Great Gatsby, and the musical Last Hooch at the Hollyhocks, about St. Paul's most famous Prohibition Era speakeasy. Jill is the young flapper on the right!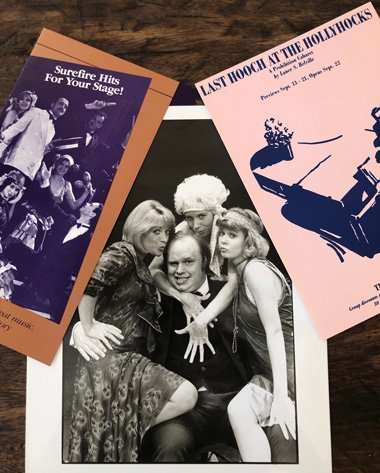 Eric Peltoniemi was the composer/lyricist for three collaborations with Lance including the award-winning, widely toured, and often revived Plain Hearts.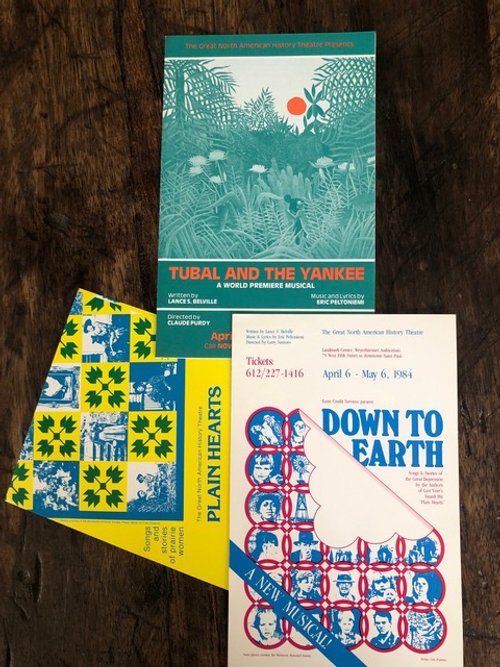 Lance, Lynn, and Eric also performed throughout the state in a Chautauqua show, Minnesota Onstage.
Here they are in a publicity shot that they wisely rejected!
Tom Berger arrived at History Theatre only a couple of years after Eric. In fact Tom's first day on the job, was striking the set of Down to Earth so a visiting off-Broadway director could watch a segment of Plain Hearts. Now, Tom is "back where he belongs" at the heart of Belville Productions.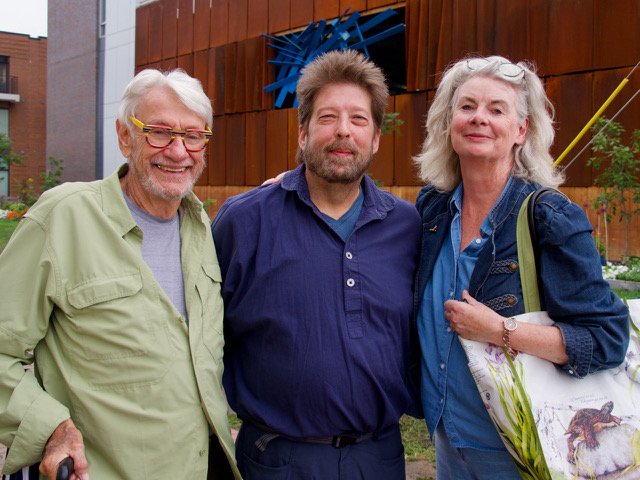 Many of the "vintage" photos on this page were taken by the late, great, beloved photographer Gus Gustafson. Here he is on the road in Texas, as Lance and he researched the history of women in rodeo for Cowgirls. Thank you, Gus, for a trunk full of unforgettable images and for a lifetime of friendship, compressed into just not enough years.