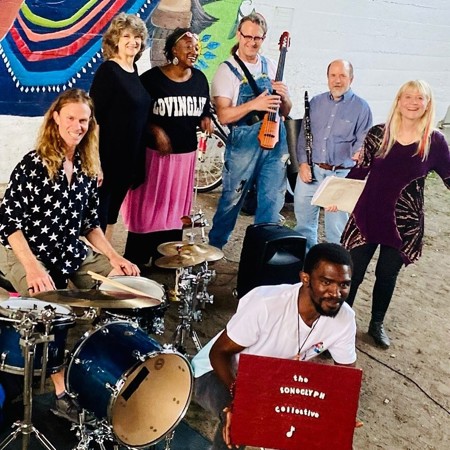 Beyond the Box: The Sonoglyph Collective
July 12 & July 19 - Noon
Join The Sonoglyph Collective as they create a spontaneous street oratorio, featuring poems, stories, and songs written from a variety of perspectives on the themes of hope, renewal, and the strength of community amid the challenges of urban life, supported and enhanced by improvised music woven contrapuntally throughout the readings.
The Sonoglyph Collective fuses poetry, singing, storytelling, and spoken word with improvisational music in unique, spontaneous performances. They are a linguistically, culturally, and racially mixed group who draw on a variety of influences, including the West African griot tradition, the epic Finnish folk-poetry of the Kalevala, Irish sean-nós singing, torch songs, American blues, classic rock, and free jazz.
New here? Create an Account
Your account has been created. Please check your email for a confirmation link and you're ready to go! If you don't see an email from us, please check your Junk Mail folder. If you don't receive your confirmation link, you may already have an account in the system. You can reset your password here.