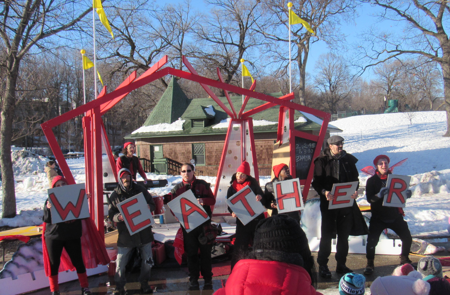 Beyond the Box: zAmya Theater Project
June 28 & July 5 - Noon
We just can't stop talking about the weather!
Whether We Will Weather the Weather
is a theatrical performance filled with flags, buckets, umbrellas, cardboard props, lots of luggage, and a song about the weather. With music and humor, zAmya troupe and friends play out the not-so- funny intersection of climate change catastrophes and homelessness. (Got some change?)
zAmya Theater Project uses the powerful combination of lived experiences and artistic expression to inspire our communities to work for housing justice for all. We envision empowered and interconnected communities that stop staring and start seeing, and change the systems that dehumanize us.
New here? Create an Account
Your account has been created. Please check your email for a confirmation link and you're ready to go! If you don't see an email from us, please check your Junk Mail folder. If you don't receive your confirmation link, you may already have an account in the system. You can reset your password here.