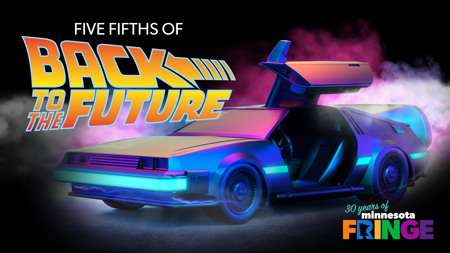 Five Fifths of Back to the Future - Online
May 18-31
Each year, we take a well known movie or cult classic, break it into five parts and give each part to a different theater company. We ask them to stage their interpretation of that section and perform it in sequence during a one night only event and without the knowledge of who the other theater companies are or what they are doing. This year's artists include:
Juggler, clown, and mime, Benjamin focuses on Circus and Theatre's ability to bring people together and to create memories.
Corpus Callosum Dance Project creates multi-medium art from collaboration between dance and different artistic genres.
Fringe favorites FOUR HUMORS focuses largely on newly devised work, created by the company.
Minneapolis-based actor, arts educator, director, improviser, playwright, and voiceover artist, Michael Rogers.
The Mess creates improvised masterpieces with Fringe favorites Rita Boersma, Molly Ritchi, Jake Scott, James Rone, & Mike Fotis.
Hosted by Harry Waters Jr., aka "Marvin Berry", from the Back to the Future movies.
New here? Create an Account
Your account has been created. Please check your email for a confirmation link and you're ready to go! If you don't see an email from us, please check your Junk Mail folder. If you don't receive your confirmation link, you may already have an account in the system. You can reset your password here.