2023 Fringe Festival IP Registration Information
So, you're ready to Independently Produce a Fringe show...
Yay! That's awesome -- let's make that happen. We believe Fringe is for everyone, which is why we continue to take steps to remove barriers to participation. Even if that means bypassing the Lottery to produce during the 2023 Minnesota Fringe Festival. We're here to make Fringe work for you.
Traditionally, Fringe selects, staffs, and manages every venue in the Festival. Independently Produced shows invite producers to select any venue in the metro to stage their work and join the festivities. Have a favorite space where you already perform? Got an idea for a non-traditional performance? Didn't get chosen in the lottery? No worries. With the Independent Production option, you can still be part of the Fringe Festival!
YES... You can do both! You can even Independently Produce a Fringe show even if you were selected in the Lottery. It's a lot to manage and you will need to register each show under a DIFFERENT email, but if you are the adventurous type (and, let's face it, we know you are), then you are welcome to do both.
Please take a moment to read through ALL the information in the IP Handbook BEFORE you register, including the requirements and payout structure. Additional details can be found in the 2023 Minnesota Fringe Festival IP Handbook:
---
2023 Basics: Time and Money

Registration for an IP Show is NOT an application. It is a registration. Producing fees and all supporting documentation (venue rental / insurance / permits, etc) must be submitted by the END OF THE MONTH YOU REGISTER in order to maintain registered status. If you a producer fails to submit proof of venue rental / insurance / permits required to secure a space for their show, Fringe will reject the submission and refund the registration fee and the producer will have to re-register when they have gathered the appropriate information. This is the only circumstance where registration fees are refundable.
Registration fees are discounted on the following schedule: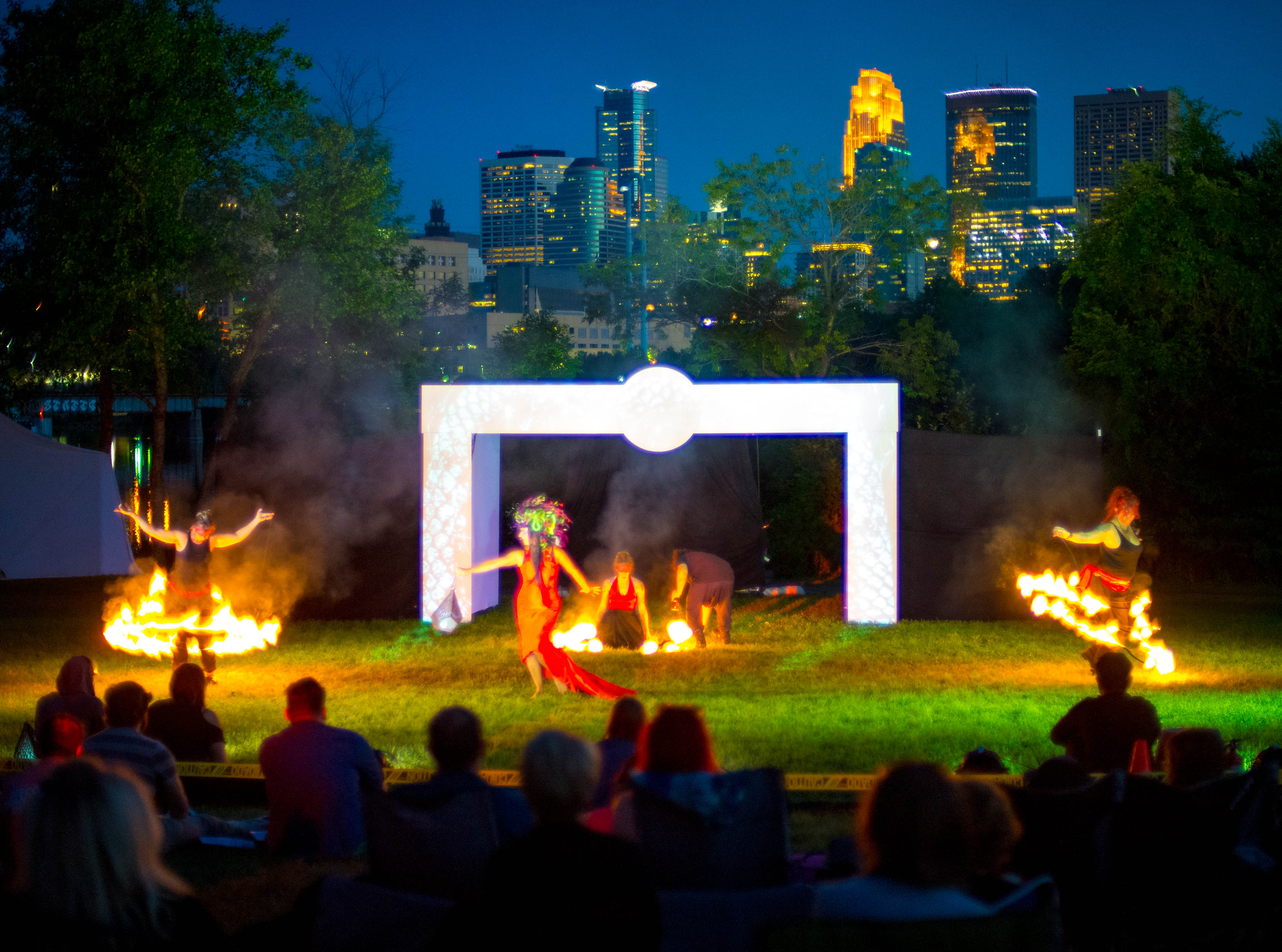 | | | | |
| --- | --- | --- | --- |
| Registration | Discount | Amount | Due Date |
| March | ~40% | $350 | 03/31 |
| April | ~20% | $450 | 04/30 |
| May | ~10% | $525 | 05/31 |
| June | Full Fee | $575 | 06/15 |
The 2023 Minnesota Fringe Festival runs Thursday, August 3 through Sunday, August 13. Independently Produced shows can select their own dates of performance, but must start their shows on the 'Fringe Grid' times. Shows can be of any length, but duration should be clearly posted if it is more or less than the typical 60 minutes.
IP Producers will receive 70% of all digital sales, including single and discount tickets sold through the Fringe website and credit cards swiped at your venue / location. IP Producers keep 100% of all cash sales at the door.
---
What you get
Freedom to schedule your own performance days and times
Guaranteed 70% of digital sales receipts and 100% of cash sales at your box office
Freedom to select your own venue and number of performances
Advanced online ticket sales (advanced) and a ticketing platform for door sales
Box office training
Fringe IP Handbook—your comprehensive guide to the festival
Access to workshops and one-on-one help sessions

Customizable page for your show on our website

Publicity distribution to major press outlets and regional producers/presenters
Artist passes for you and your cast to see festival shows for free
What you're responsible for

Finding or creating a script; acquiring any necessary rights or permissions for existing scripts/music
Finding and contracting a venue and associated technicians (if needed)
Providing box office staff and support for your show
Acquiring General Liability Insurance / Venue Contracts / Permits as required for your performance space
Arranging/contracting actors and a director
Costumes, props, sound cues and set pieces
Marketing your show
Arranging necessary visas and work permits if coming from outside the United States
Abiding by the Fringe rules and deadlines
---
Please remember the Fringe Festival is a different producing environment than "normal" production. The Festival pace is faster, the timeline more compressed, and there is less control over ticketing and schedule. Guidelines and rules are in place to keep the big picture running smoothly - which is also what makes it fun!

Is the Fringe Festival right for your production?

We believe there's a place for everyone in the Fringe Festival and welcome participation from anyone along the entire artistic spectrum. But the Festival may not be right place for every kind of production. The inclusion of Independently Produced (IP) festival shows in 2023 is intended to offer a wider range of options for location, length, and complexity.
Want to talk more about venues and other spaces?
You're NOT alone! To better support IP artists, Fringe is creating a database of producers who are interested in sharing space rental with other companies. Simply answer a few questions on THIS FORM and you'll be connected with Independent Producers who may be able to pair up with you to more economically acquire a venue.
Connect me to potential venues
and other producers!
Have more questions?
I'll bet! That's why this year we held an information session for anyone curious about registering an Independently Produced (IP) show. Fringe's Community Liaison, Artist Liaison, and Executive Director at your disposal to answer questions about how IPs work at the festival along with seasoned artists sharing IP experiences, tips about engagement, and even potential space suggestions in the Cedar-Riverside neighborhood. CLICK HERE to watch the ZOOM Recording.
If you've got questions, contact us at info@fringefestival.org. Thank you for participating in the Fringe Festival!