Fringe with Benefits
Fringe with Benefits is a community dedicated to strengthen relationships between adventurous artists and adventurous audiences. Member support enables us to further our mission, present special events and new programming, and celebrate the performing arts. Membership options allow you to choose your own adventure and include a tax-deductible donation. To enroll as a Fringe with Benefits member, select the membership type button and follow the prompts. 2023 Memberships go on sale December, 2022, and are good through December 2023.
Congratulations to Jennifer Walker! Every Fringe with Benefits member that signed up before February 15 was entered into a drawing to be the Voice of Fringe for one night of the Festival! Jennifer will join the ranks of Maria Bamford, Mona Shamsan, Joy Dolo, and Shanan Custer (among others) by lending voice to the Fringe with a custom overhead message that will be heard by every audience member welcoming them to shows, inviting them to Fringe Central, and reminding them to turn off the phones and "Enjoy the Show!"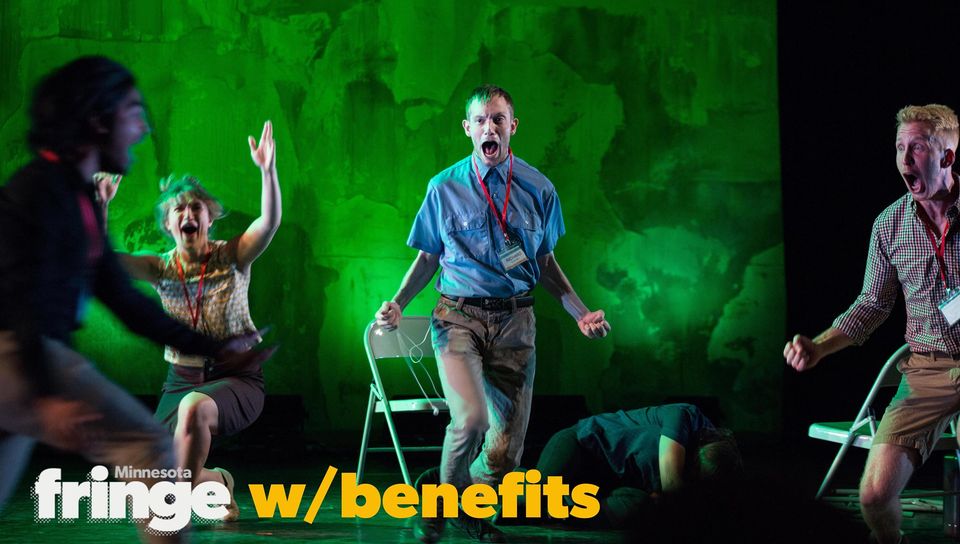 Benefits vary by membership type and include a combination of the following:
Private Facebook Group - Chat with fellow Fringe'rs to share show insights, early access to preview night lists, and get quick answers directly from Fringe staff in our members-only forum.
Behind the Curtain Newsletter - Quarterly behind-the-scenes updates on all things Fringe crafted especially for members, donors, and sustainers.
Fringe Button - The Fringe button is your entry to the festival that also provides access to year-round theater deals and discounts, plus it's a souvenir button made especially just for Fringe with Benefits members!

Fringe Merch - To celebrate 30 years of Fringe Festivals, we're offering members 23% off everything in the Fringe Merch in 2023 now through June 30. Feel free to fly your Fringey Flag and flaunt your Fringe Flare in time for the Festival.

Five Fifths- Tickets to Fringe's annual community fundraiser commissioning 5 Fringe artists / companies to adapt one-fifth of a well-known film, to mash them all together in fine Fringe fashion on May 8, 2023. Recent adaptations have included Jurassic Park, The Matrix, Mary Poppins, and Star Wars: A New Hope.

Early Online Access - Early access to the Festival website so you can peruse shows and make reservations to see your Fringe favorites or discover the 'it' show before the general public.
Five Show Pass - Entry to any five shows in the 2023 Minnesota Fringe Festival for you or for your friends.

V.I.P. Pass - Access to any show, on any day, at any time, in any venue during the 30th annual Minnesota Fringe Festival reserved for our most Valued Intrepid Patrons. (55 maximum shows)

Tax Deductible Donation - Support the arts organization that supports the artists and art you love!
| Membership Type | Benefits | 2023 Cost* |
| --- | --- | --- |
| | Private Facebook Group & Newsletter, Fringe Button, Fringe Merch Discount, Early Online Access, (1) Ticket to Five Fifths and (1) Five Show Pass | $175 or $15.00/mo |
| | Private Facebook Group & Newsletter, Fringe Button, Fringe Merch Discount, Early Online Access, and (1) V.I.P. Pass | $575 or $48.75/mo |
| | Private Facebook Group & Newsletter, Fringe Button, Fringe Merch Discount, Early Online Access, (1) Ticket to Five Fifths, and (1) V.I.P. Pass | $650 or $55.00/mo |
| | Private Facebook Group & Newsletter, Fringe Button, Fringe Merch Discount, Early Online Access, (2) Tickets to Five Fifths, (2) Five Show Passes, and (1) V.I.P. Pass | $850 or $72.50/mo |
| | Private Facebook Group & Newsletter, (2) Fringe Buttons, Fringe Merch Discount, Early Online Access, (2) Tickets to Five Fifths, and (2) V.I.P. Passes | $1,500 or $125.00/mo |
*Monthly installments include a nominal fee for credit card processing