2022 Fringe Festival Lottery Application Information
So you want to do a Fringe show...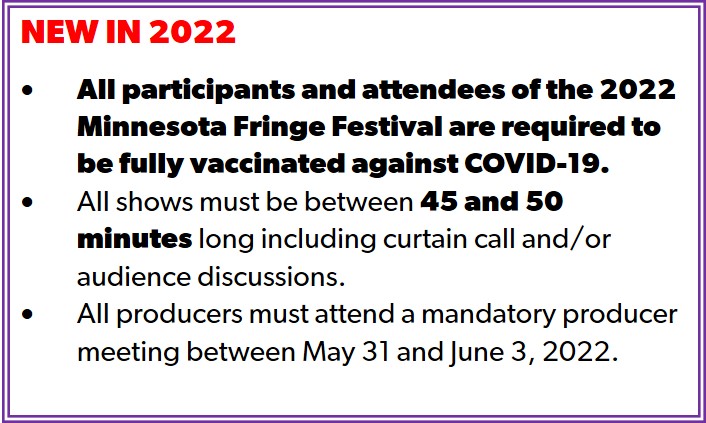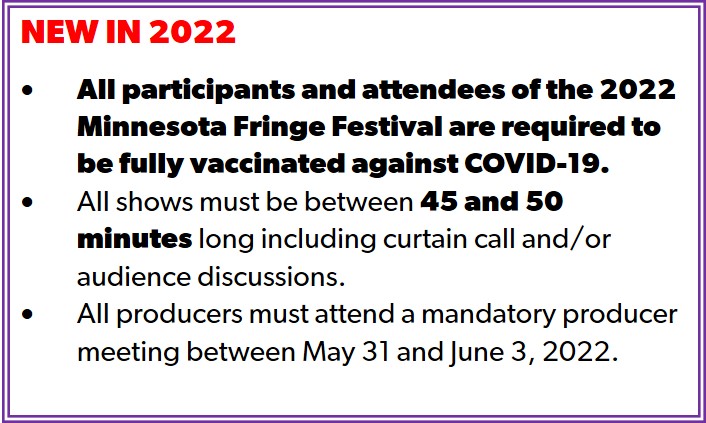 Yay! We're here to help make that happen -- whether this is your first time producing or if you've been doing it for years. We believe Fringe is for everyone, which is why we continue to take steps to remove barriers to participation. Get in touch if you need special accommodations, disability services, language interpreters or anything else. We're here to make Fringe work for you. Please take a moment to read through ALL the instructions before you apply, including the description of the tiers and lottery options. Additional details can be found in the Minnesota Fringe Festival 2022 Producer Handbook (open in new tab). There are a few new policies and opportunities in 2022. Please keep reading for more info about the application process, provisions, and tier structures. You can download the Producer Handbook here: 2022 Producer Handbook (download)
NEW: Vaccination Policy! All participants and attendees of the 2022 Minnesota Fringe Festival are required to be fully vaccinated against COVID-19. Guests may be asked to take additional precautions, such as face coverings, social distancing, and limited seating, depending on the current community transmissibility.
---
---
APPLICATIONS ARE CLOSED
The deadline to apply was February 15, 2022. The lottery will be publicly held on the evening of February 28, 2022, at the Bryant Lake Bowl. Please apply to the lottery which is best suits you (general, equity, touring), but you may only apply once per tier for a total of up to 3 applications. Duplicate applications for the same producer/company within the same tier will be rejected without refund.
Multi-tier Applications! There are three venue tiers—based on capacity—to which artists can apply. One application is accepted per show per tier. A producer/company may apply to multiple tiers, but can only produce one show in the festival. If your show is randomly selected in multiple tiers during the lottery, you will be asked to choose ONE tier. A fee of $30 for each application is due at submission.
Applications to General Lottery are CLOSED
NEW: Equity Lottery! In our efforts expand our reach, fight against injustices, and become a more welcoming and equitable place for everyone to enjoy the performing arts, Fringe has added an Equity Lottery. BIPOC producers, writers, directors, and choreographers are encouraged to apply in this category for an opportunity to be one of the first 10% of Festival participants chosen in 2022. Artists not selected from this lottery will have a second chance to be selected in the general lottery. Applications in this lottery are pay what you can.
Applications to Equity Lottery are CLOSED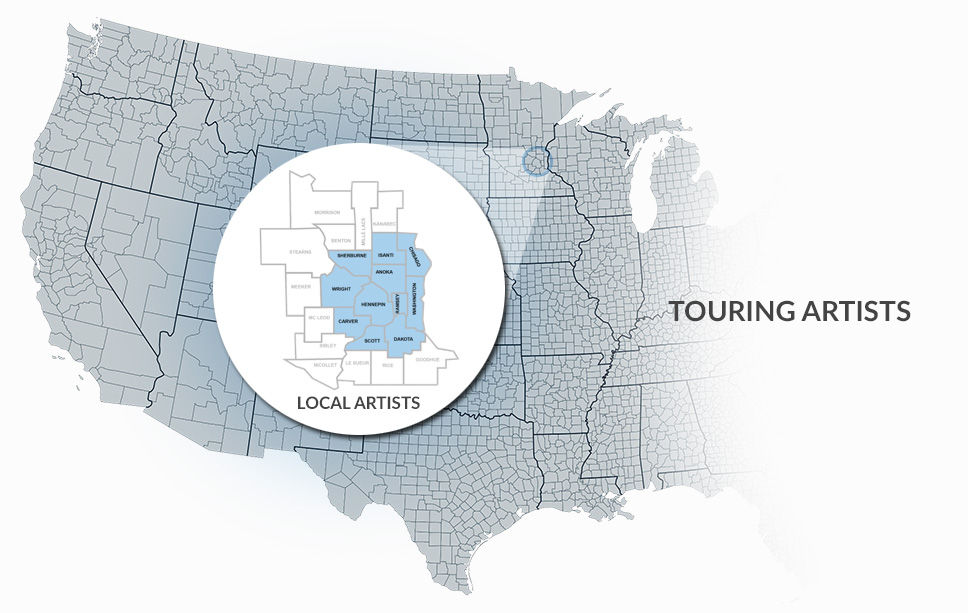 Touring Artist Initiative! Now more than ever, it's time to connect with minds on a global scale. We're throwing down the welcome mat for those who bring fresh perspectives and talent into our vibrant metro home by reserving 10% of Minnesota Fringe Festival slots selected specifically for national, international, and Minnesotan artists coming from outside the 11-county metro area. Artists not selected from this lottery will have a second chance to be selected in the general lottery. A fee of $30 is due at submission.
Applications to Touring Lottery are CLOSED
---
The Basics: Time and Money

All producers must be available for:
A scheduled, mandatory producer meeting between May 31 - June 3, 2022
A scheduled, mandatory technical rehearsal between July 31 - August 3, 2022
At least 8 FULL days of the Fringe Festival, August 4-14, 2022
Producer fees to participate in the festival range from $425 to $575, dependent on which Tier (based on venue capacity) you are performing in. Producer fees for artists selected in the lottery are due March 18, 2022.
Producer Funding Opportunities! As our way of championing risk and lowering barriers for more producers, we offer producer funding opportunities to either defer or waive fees for selected producers! This initiative is stewarded by the Minnesota Fringe Artist Committee. More information on this initiative can be found on our Producer Funding Opportunities page. Applications for all funding opportunities are CLOSED.
---
What you get
Five scheduled performances

(50 minutes each)

Guaranteed 70% of your box office receipts. Receipts include single-ticket sales to your show at full price ($15), the admission credit discount rates ($13 or $11), or the kid fare ($7).
A professional-grade, well-equipped accessible venue (with additional wheelchair access or other accommodations for artists, available by request).
Professional technicians to run the board for your show, including one lighting designer to set cues
Ticket sales (advanced and in-person), box office staff and front-of-house services
Fringe Producers' Handbook—your comprehensive guide to the festival
Access to workshops and one-on-one help sessions
Drawings and photos of your Fringe managed venue
Customizable page for your show on our website
Publicity distribution to major press outlets and regional producers/presenters
Artist passes for you and your cast to see festival shows for free
What you're responsible for

Finding or creating a script; acquiring any necessary rights or permissions for existing scripts/music
Arranging/contracting actors and director
Costumes, props, sound cues and set pieces
Marketing your show
Arranging necessary visas and work permits if coming from outside the United States
Abiding by the Fringe rules and deadlines
Ensuring all cast and crew are fully vaccinated against COVID-19
Presence at all mandatory meetings, technical rehearsal, and shows
---
Is the Fringe Festival right for your production?

Please remember the Fringe Festival is a different producing environment than "normal" production. The Festival pace is faster, the timeline more compressed, and there is less control over venue choice, tech, ticketing and schedule. Requests that might be reasonable in a single-show venue can prove much more challenging. Guidelines and rules are in place to keep the big picture running smoothly - which is also what makes it fun.We believe there's a place for everyone in the Fringe Festival and welcome participation from anyone along the entire artistic spectrum. But the Festival may not be right place for every kind of production. Dream big, but know there are limitations to consider:
NEW! Keep it safe

: All participants and attendees of the 2022 Minnesota Fringe Festival are required to be fully vaccinated against COVID-19.

NEW! Keep it short

: All shows must be between

45 and 50 minutes

long including curtain call and/or audience discussions.
Keep it simple: You must be able to load in and set up your show in ten minutes. Likewise, you get ten minutes to load out once your show is finished. Storage is never guaranteed, so you may need to transport your set and costumes in and out for every performance. Venues are shared by up to 11 companies, so lighting configurations will be general to serve many different shows. Projection equipment (video or still) is available in some venues, but is not a guarantee.
Keep it inside: Merchandise sales are permitted inside the theater space -- not the lobby -- during your allotted show time.
---
How the lottery works
Fringe Festival shows are chosen by random lottery. Each application is assigned a number, we put the numbers on ping-pong balls, then draw the balls out of a bingo cage as a public event.
The first drawing will determine slots for the Equity Lottery winners (10% of festival participants). The second drawing will be comprised of previous Touring Artist Initiative (10% of festival participants). Once those slots are full, the remainder of the Equity Lottery and Touring Artist ping-pong balls will be separated out into their respective tiers and mixed in with the local applicants in the tiered lotteries.
There are three separate tiers based on venue seating capacity (see below). Each tier has a lottery for a pool of production slots. Once productions are chosen, the remaining ping pong balls in each tier will be drawn for slots on tier-specific wait lists.
If you apply for multiple tiers and your show is randomly chosen in more than one, you will be contacted after the lottery and be asked to select ONE tier. (Once you make your choice, your remaining applications -- whether chosen in a separate tier or on a wait list -- will then be discarded.) All empty slots are then filled by the remaining respective wait list on a rolling basis.
How to choose your tier
Ultimately, we suggest two factors in making your decision:
Budget. How much of an initial financial investment do you want to make? How many patrons do you think you might attract? The average box office payout last year was 1,500, but since that's an average, there's tremendous variation. No one gets rich doing the Festival, but more seats in your house increase the odds that a good show and strong marketing will pay off in ticket sales. Shows in Tiers 2 and 3 historically have average payouts 50% higher than those in Tier 1.


Show. Think about the scope of your show and consider what size would suit it best. Keep in mind that a small house size does not always equal a small stage. There are venues of all shapes and sizes in each tier, but you're most likely to find a larger stage with a higher tier. Please note: if you have a cast size of 20+ people, you should apply in Tier 3 in order to accommodate fire code capacity for both the audience and your cast.

IMPORTANT: Since we won't know how many applicants each tier will have until all the applications are in, we won't know what the odds are in each tier. Please don't spend time worrying about probability. Just pick the category that feels right for you.
Tier
Capacity
Fee
Production Slots
Venues
Notes
1
Up to 99 seats
$425
43
Augsburg Studio and U of M Rarig Xperimental, Bryant Lake Bowl, HUGE
Best for smaller casts and intimate shows
Due to limited seating, big payouts are unlikely
All proscenium stages (no thrust or arena options)
Dance is possible, but stage size is small
2
100 - 199 seats
$515
43
Augsburg Mainstage, U of M Rarig Arena, Center for the Performing Arts Flex, Center for the Performing Arts Black Box
Best for dance
If you need a mid- to large-size stage area, or you are needing a sprung / marley floor for dance, this is the place for you
3
200+ seats
$575
33
Mixed Blood Theater, Theatre in the Round, and
U of M Rarig Thrust
If you need a mid- to large-size stage area, have a large cast, and/or confident in your abilities to draw a large audience, this is the place for you
Cast size of 20+ should apply in this tier
Dance is possible, but stages in this tier are not ideal
Applications are CLOSED, but if you've got questions, contact us at info@fringefestival.org.