Bob and Reggie Go To Bed
By Comedy Suitcase
Created by Joshua English Scrimshaw & Levi Weinhagen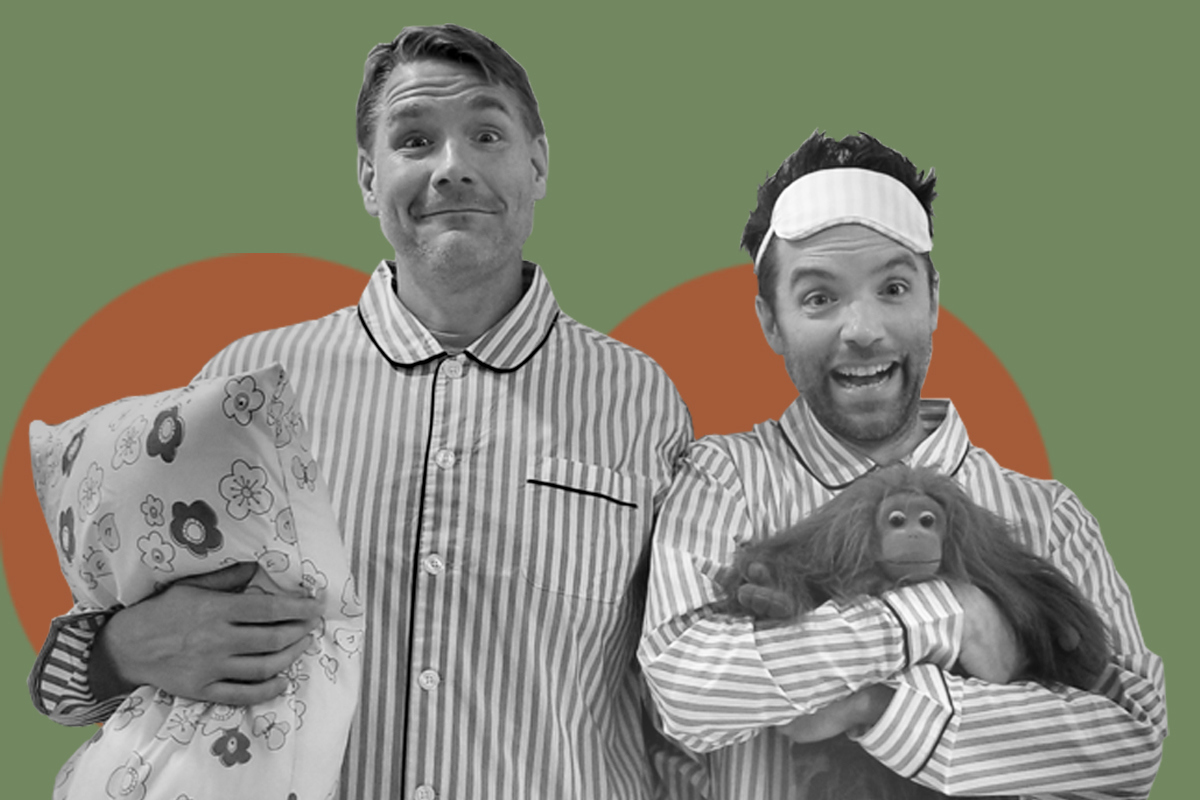 Playing at
Show Description
Two idiots get ready for bed. Complications arise. A live show full of physical comedy, music, and no words.
Genre and Content
Content Warnings
The creators say this show is appropriate for ages 7-11 and up
Learn How To Fringe
Seat Reservations and Show Tickets
Reviews
Video Trailer
Cast and Crew
More Information
"The brilliant comedic minds of Comedy Suitcase" (Star-Tribune) return to the Minnesota Fringe with their latest all-ages comedy, Bob and Reggie Go to Bed.
The set-up is simple: Bob and Reggie are idiots. Their incompetence knows no equal. When faced with the most mundane of tasks, the duo become unwitting agents of chaos; escalating minor obstacles into existential calamities. Going to bed is no exception.
Bob and Reggie Go to Bed is a silent physical comedy with live musical accompaniment similar to Comedy Suitcase's 2017 Minnesota Fringe hit Intermediate Physical Comedy for Advanced Beginners. The production reunites Comedy Suitcase co-founders Joshua English Scrimshaw and Levi Weinhagen with Sulia Altenberg. The last time the trio shared a Fringe stage was in Scrimshaw and Weinhagen's 2009 top-selling Minnesota Fringe production, The Harty Boys in the Case of the Limping Platypus (when Sulia was just thirteen years old!). Bob and Reggie Go to Bed marks Comedy Suitcase's first collaboration with Rhiannon Fiskradatz. Her offbeat score is performed live and helps give Bob and Reggie Go to Bed its unique energy.
Comedy Suitcase is a Twin Cities based theatrical comedy company dedicated to creating live comedy for all-ages. Founded in 2010 by Joshua English Scrimshaw and Levi Weinhagen, Comedy Suitcase strives to bridge the gap between imaginative theater for children and sophisticated comedy for adults. In the words of Groucho Marx: "A child of five could understand this.. Fetch me a child of five!" www.comedy-suitcase.com
PREVIOUS PRAISE FOR COMEDY SUITCASE!
"If you see 'Comedy Suitcase' attached to a Fringe show, reserve tickets early and go see it, and prepare to laugh." - Cherry and Spoon
"Scrimshaw and Weinhagen's exuberant brand of physical comedy has made them perennial Fringe favorites." - Star Tribune
"These people know how to craft a good comedy show, and it shines through in everything they do." - Twin Cities Daily Planet
"There is genius in their simplicity." - Pioneer Press