Fuzzy and Brown Bear Go Fishing
By Masch Up Plays
Written by Michelle Schaunaman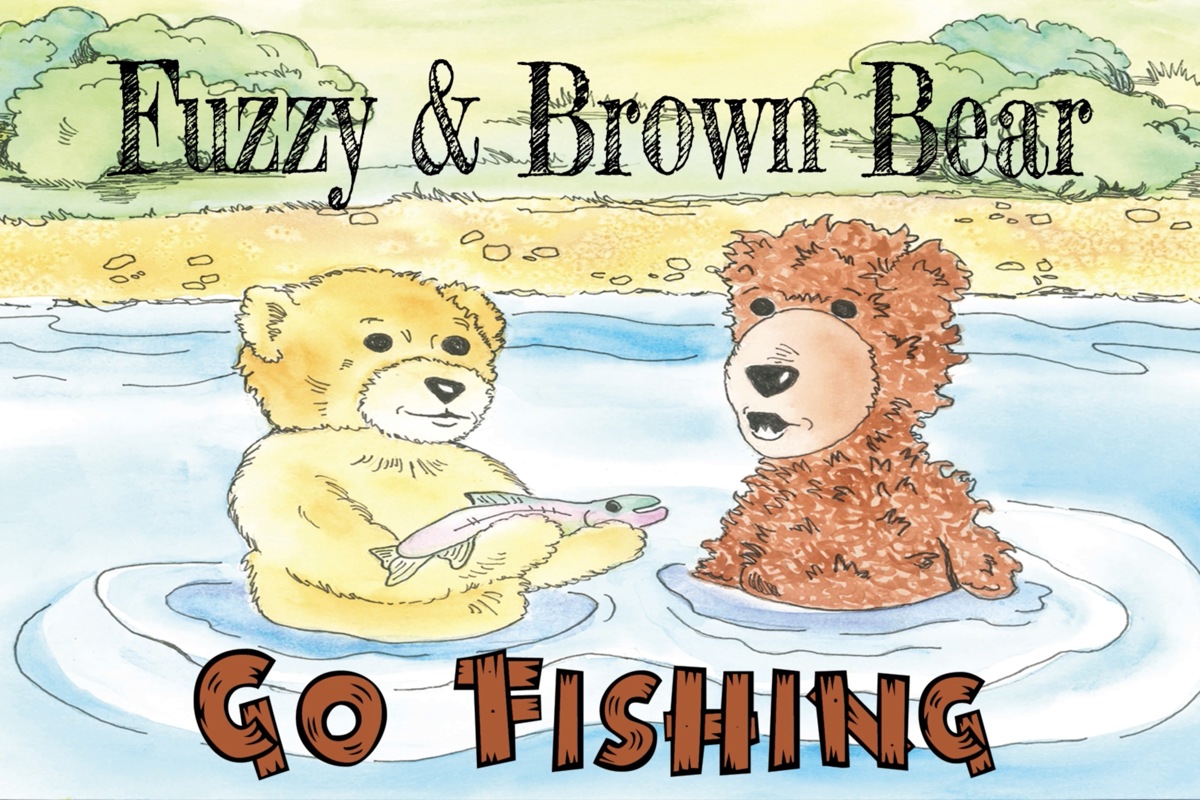 Playing at
Show Description
Bears who can't fish, a sly fox, feisty crawfish, and a little boy team up for a fishing tale full of mishaps. Adventure and new friendships outweigh any fish they catch! Color along with free printable pages!
Genre and Content
Content Warnings
The creators say this show is appropriate for ages 2-6 and up
Learn How To Fringe
Seat Reservations and Show Tickets
| Add to Schedule | Date | Time | Ticket Options | Quantity | Purchase |
| --- | --- | --- | --- | --- | --- |
Reviews
Video Trailer
Cast and Crew
More Information
Free Coloring Pages
Color along with three free pages inspired by the show's illustrations!
Q&A with the Playwright
What inspired this show?
Every summer, my son and I attend children's theater productions together. Two years ago, we couldn't attend a performance because I was ill. Instead of moping, we grabbed stuffed animals and a toy fishing pole and made our own show. Suddenly, Fuzzy & Brown Bear Go Fishing was born!
What is an audio play?
An audio play is like a radio play from days past, only it's not on the radio! The audience member's experience is entirely through their ears—hearing the dialouge, sound effects, and music—without seeing anything. In this case, watercolor illustrations were added to enhance the listening expereince. The end result reminded me of Fridays in elementary school watching Reading Rainbow — a story told with simple moving illustrations, voice work, sound effects, and music.
Why an audio play with illustrations?
An audio play was not my first choice, but COVID was in full swing and I desperately missed theater. Also, I was tired of reading and performing the "one woman show" version of Fuzzy & Brown Bear Go Fishing for my son. I thought the safest way to produce a show was to individually record voices and create a simple audio play that my son could listen to and play along with at home. But, as I gathered more people to help me the project, it grew into an online show with sound effects, original music, and watercolor illustrations that was co-produced by my local community theater! Still, I would love to see it as a fully staged, live play someday!
Who illustrated the show?
My mother-in-law, Lora Schaunaman, and my husband, Nick Schaunaman, created the watercolor illustrations.
Have you written any other plays?
Yes! I've written five plays and one screenplay. However, I only have three finished pieces— Inconsequential Dreams, Fuzzy & Brown Bear Go Fishing, and Fuzzy & Brown Bear and the Flying Fluffy Worm. You can learn more about the shows on my website!
What exactly is Masch Up Plays?
Masch Up Plays is my playwright website and a blog about writing and producing plays. It's not meant to be a "how to" guide—it's more of a diary of my personal experience. People can get to know me, learn more about my plays, and contact me about perusals or rights to shows through the site. You can also email me at maschupplays@gmail.com!
Any final words?
I want to share this story with other kids, so they can listen and play along too. I hope listening to Fuzzy & Brown Bear Go Fishing brings other families as much fun and laughter as it has brought mine!
Don't forget to use the hashtags #MNFringe and #FuzzyandBrownBear on social media!