A Little Water
By Cardboard Suitcase Productions
Created by Penelope Parsons-Lord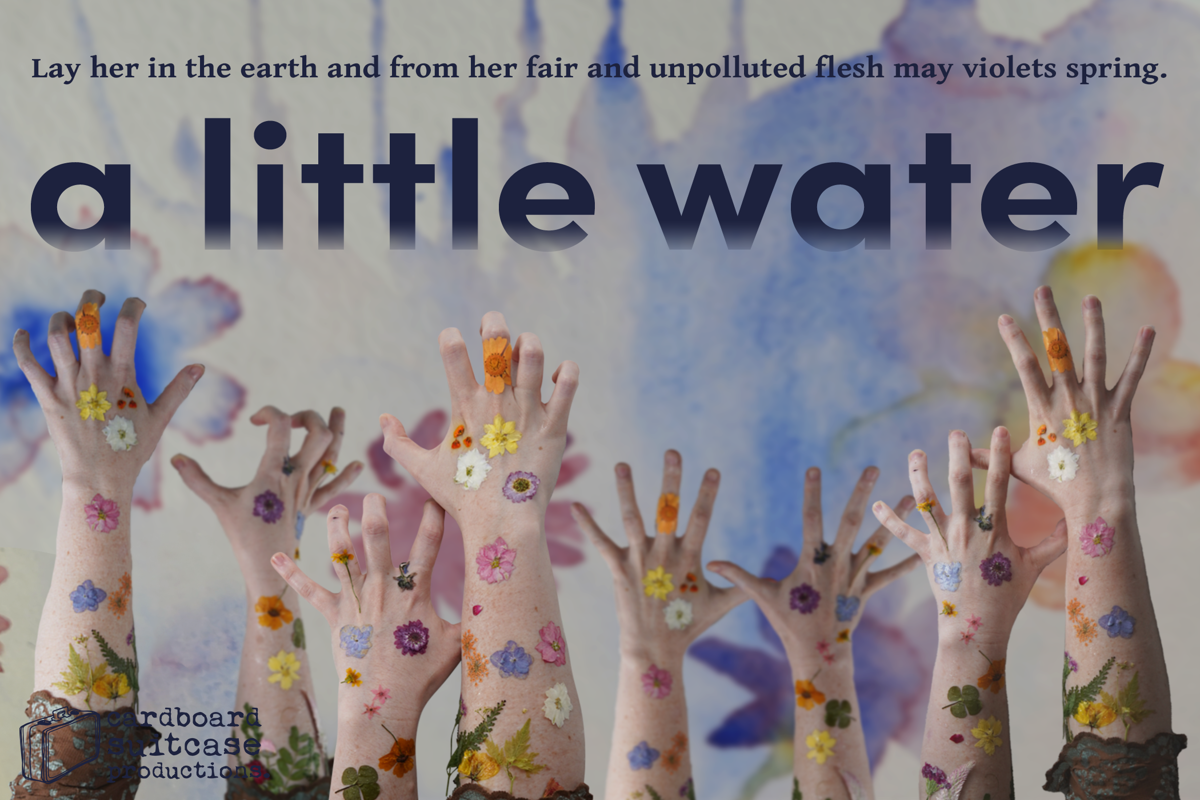 Playing at
Show Description
We ask, "What are the moments that mattered?" as we watch Ophelia disappear under a slow drip of doubts, judgements, and expectations.
Genre and Content
Content Warnings
Abuse/Physical violence,Mental illness,Sexual violence,Suicidal ideation/self-harm,Violence
The creators say this show is appropriate for ages 12-15 and up
Learn How To Fringe
Seat Reservations and Show Tickets
Reviews
Video Trailer
Cast and Crew
More Information
DIRECTORS NOTES
As a theatre maker, for many years I have wanted to explore the character of Shakespeare's Ophelia. I am fascinated by who Ophelia is, perhaps because I feel that we only every catch glimpses of her - as a reflection as she passes through life defined, controlled by and viewed and used by others. Her brother, her mother, the Queen and King, Hamlet and the court at large and indeed the country justify their judgements of her by deciding that she is either virtuous or wanting. Ophelia is standing alone in a room begging to be seen, to be loved, to be valued. To have agency. To be herself.
Ophelia deserves better.
We deserve better.
I am a woman theatre director who specialises in re-telling classical stories. While this may not at first seem to be an act of subversion, I am often surprised by how radical people find my work. All I am doing is taking Shakespeare's words, listening to their meaning and giving their meaning actions – without the male lens. Some audiences think they know these stories because they have seen a constant re-telling of them through the perspective and sensibilities of creative teams of directors, dramaturges, designers and casts dominated by men.

In developing this show, I interrogate the text - asking questions and seeking answers that many others may have taken for granted - or not even thought to ask in the first place due to the tradition of classical theatre. Through challenging the assumptions of the text, through re-contextualising the story from a woman-focused lens, we are performing an act of rebellion.
Through presenting these stories through an alternate viewpoint, we are claiming back our space in an art from that has been dominated by an oppressive class.
We are making space for ourselves in the history of storytelling, in what we have been told is the most exclusive form of theatre making – classical theatre – SHAKESPEARE! This "exclusive" form is still dominated by white men.
I am not seeking to just re-tell these stories with contemporary costumes and an exotic location. I am not seeking to provide you with a production of Shakespeare you have seen all your life. I am here to take up space, to re-invent the stories we have inherited and to stake claim over this art form.
I believe that words matter. And Shakespeare has written some pretty brutal words. Our production offers you an opportunity to engage with these brutal words in a safe place – one where women hold the narrative and one where we shape our story.
CONTENT WARNING
Violence, Emotional Abuse, Self Harm, Suicide, Suicide ideation.
We are performing an unfiltered version of Shakespeare's words exactly how he wrote them: full of issues such as misogyny, racism, sexual violence, and suicide. We do not take these issues lightly and deeply respect the emotional and physical well-being of both our audience members and actors.
Please read the Director's Notes for more information about the show.
If you or someone you know needs help, please contact:
Sexual Violence Center: www.sexualviolencecenter.org/i-need-support
OUR WEBSITE
http://www.penelope-parsonslord.com/a-little-water
NOTE ON COSTUME
All our costumes have been made from donated, found, or recycled materials.