Heart O'Mine
By VHRP LIVE! INC.
Directed by Michael Thomas and Emily Cornelius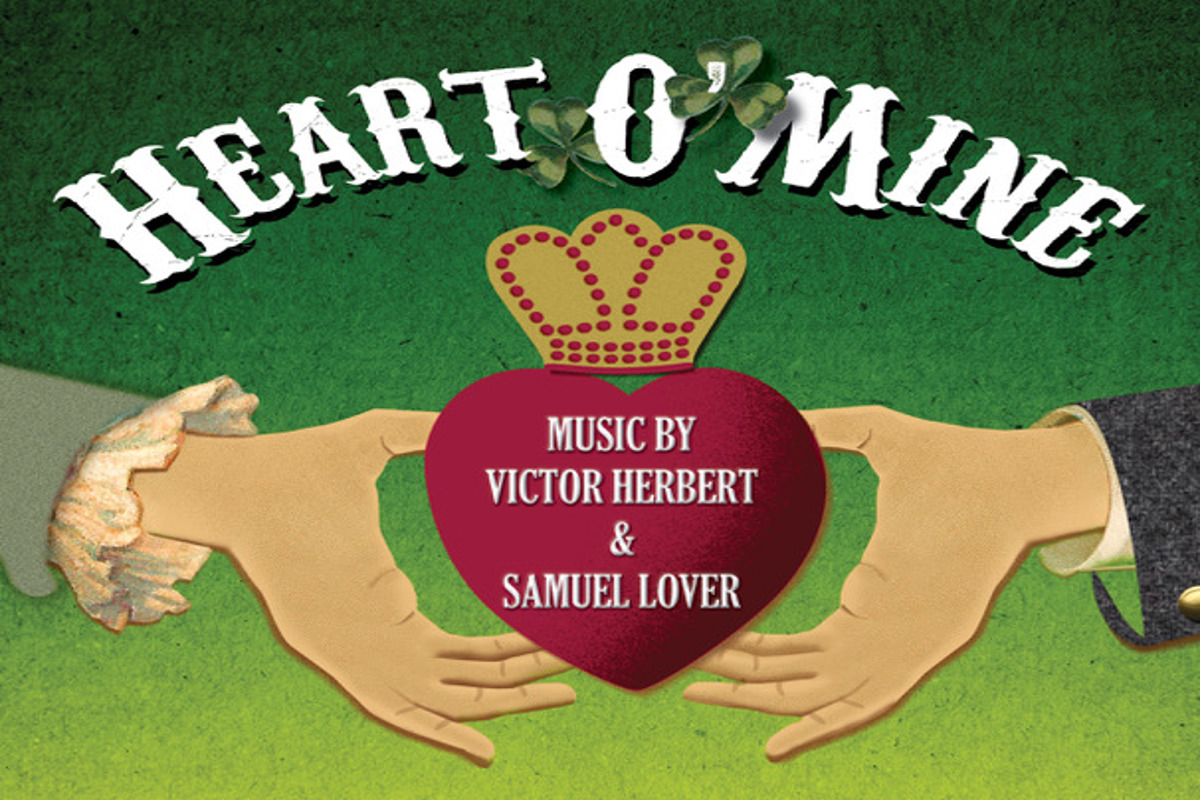 Playing at
Show Description
NYC's VHRP LIVE! brings you a new virtual concert, HEART O'MINE, Irish music of Victor Herbert (1859-1924) and his grandfather Samuel Lover (1797-1868). Composed in the 19th & 20th C, created in the 21st C!
Genre and Content
Content Warnings
The creators say this show is appropriate for ages 7-11 and up
Learn How To Fringe
Seat Reservations and Show Tickets
| Add to Schedule | Date | Time | Ticket Options | Quantity | Purchase |
| --- | --- | --- | --- | --- | --- |
Reviews
Video Trailer
Cast and Crew
More Information
Meet Heart O'Mine and VHRP LIVE!
New York City's Victor Herbert Renaissance Project LIVE! (VHRP LIVE!) is a 501c3 resident company of professional singers/actors devoted entirely to the revival of the music of Victor Herbert, composer of 45 productions on Broadway between 1894 and 1924. The company was created in 2014 by Artistic Director and Founder Alyce Mott, founding Music Director Michael Thomas and founding Choreographer Emily Cornelius. Since that time, the company has produced 6 concerts, 12 operetta/musical comedies, 2 operas, and now one new virtual concert, Heart O'Mine, all consisting solely of the music of Irish American composer Victor Herbert (1859-1924). Since its founding, the company has attracted audiences from all over the US as well as England and Canada, performing with both piano accompaniment and its own salon orchestra, the New Victor Herbert Orchestra.
While Herbert is known primarily for his theatrical music, this concert consists of original music composed from his childhood memories as well as original music composed by his first great musical inspiration, Samuel Lover, his maternal grandfather. Lover was a true renaissance man of Ireland who composed, painted, wrote novels and poetry, and added a tremendous amount to the culture of Ireland. Herbert spent an idyllic 6 years of childhood with Lover and never forgot his love of all things Irish. This concert is the only totally new VHRP LIVE! virtual event and was created as the company's reaction to the national ban on live performance due to the Covid-19 pandemic. The New York City closings began on March 12, 2020 and have kept this resident company, as well as thousands of other city artists, silent and away from its normal audience for well over a year and a half. Thus, Heart O'Mine is the only time the company has sung together in that same time period.

As you watch each song unfold, know that no individual - not creator, director, nor singer - was ever in the same room, city or state at the same time. Creators and directors prepared and guided from afar via Zoom; singers utilized their homes, ear phones, and cell phones to create recordings of their individual performances. Once Stage Manager Brooke Dengler (California) had collected all raw material approved in final form by Music Director Michael Thomas (New York City) and Director/Choreographer Emily Cornelius (California), the many files were delivered to Michigan State University Video Producer and Effects Artist Allison Dobbins (Michigan) for compilation and creation. Dobbins was assisted by Video Editor Gayle Añonuevo (California) and Audio Editor Shaun Farley (California). These three true wizards wove the raw material into what you will soon witness. It was an amazing undertaking from every imaginable standpoint.
VHRP LIVE! is exceedingly proud that 70% of all revenues and donations from this concert will go directly to the individuals of this still out-of-work cast. For more information please contact amott@vhrplive.org.
Meet Victor Herbert
Composer Victor Herbert was a major music figure and household name more than 100 years ago and is probably one of the most ignored of the major American composers. Born on the Isle of Guernsey in 1859 to an Irish mother and German father, Herbert was educated in Germany in the glory days of orchestras and waltzes. He arrived in America in 1886 and immediately began to make his presence felt, working with conductors Theodore Thomas, Walter Damrosch and Anton Seidl, the most influential muscians in the US at the time. By 1900 Herbert had composed 11 operettas/musical comedies, charmed audiences with his virtuosity on the cello, written symphonic and band music, played with both the Metropolitan Opera Orchestra and the New York Philharmonic Society (today's New York Philharmonic Orchestra), conducted Gilmore's Band (New York City's 22nd Regiment Band), and served as Conductor of the Pittsburgh Symphony Orchestra. This is the man who brought the full orchestra into the American Theatrical Orchestral Pit — truly one of America's first musical superstars.

In the next 24 years, he would be a major player in the founding of ASCAP (American Society of Composers, Authors and Publishers), the fight for copyright and recording (mechanical) rights for composers, conductor of his own Victor Herbert Orchestra, a composer of the first American Grand Opera and the first original American film score, made the first ensemble recordings for Edison, and composed an astonishing 34 more operettas/musical comedies. No other single individual contributed more to the American musical theatre in more varied areas than Victor Herbert. But the one thing you are liable to remember the most after you see this concert is the fact that this composer will always leave you humming!