The Last of the Cousins Beckwith
By Actors Repertory Theatre Luxembourg
Written by Erik Abbott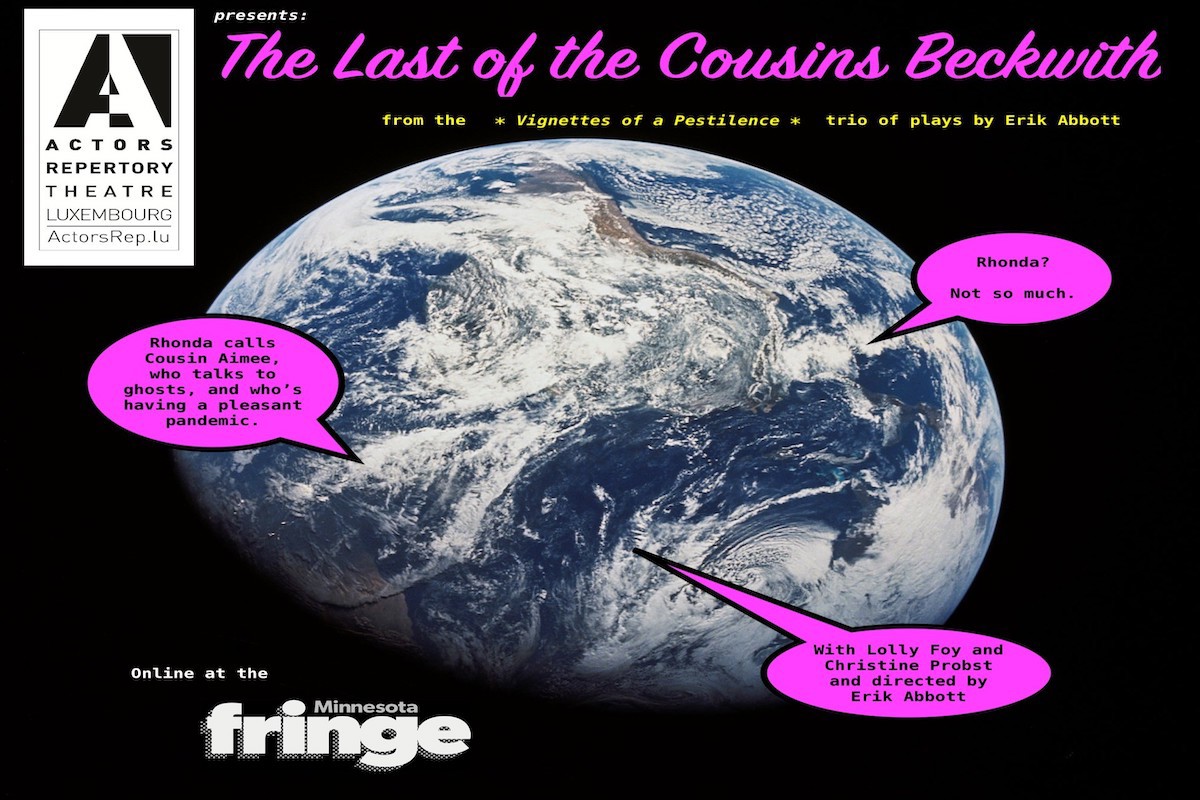 Playing at
Show Description
In THE LAST OF THE COUSINS BECKWITH, a frustrated Rhonda calls her cousin and best friend Aimee, who is in regular contact with a cadre of dead friends and is having a peaceful pandemic. Rhonda? Not so much.
Genre and Content
Content Warnings
Adult language,Mental illness,Suicidal ideation/self-harm
The creators say this show is appropriate for ages 12-15 and up
Learn How To Fringe
Seat Reservations and Show Tickets
| Add to Schedule | Date | Time | Ticket Options | Quantity | Purchase |
| --- | --- | --- | --- | --- | --- |
Reviews
Video Trailer
Cast and Crew
More Information
Actors Repertory Theatre Luxembourg ("Actors Rep"), a professional English-language theatre company founded in 2012, presents the world premiere productions of a trio of plays collectively titled Vignettes of a Pestilence at the Minnesota Fringe Festival (online).
The three original one-act plays, written for either online or the stage, will be presented as online productions.
The plays were written by Luxembourg based playwright, actor, director, and Actors Rep Artistic Director Erik Abbott, who has written over twenty plays. He is a former Twin Cities' resident and former Core Member of The Playwrights' Center.
The plays take place within the context of video calls, during three different time periods over the course of the COVID-19 pandemic. Each of the stand-alone plays deals with emotional aspects of life during the pandemic: fear, depression, grief, etc. -- but with humour and hope.
The Last of the Cousins Beckwith is chronologically the second play and is set in the autumn of 2020. It features two cousins / best friends, whose stories conjure a shared history of their eccentric family, the struggles of and frustrations from continued lockdowns, and depression.
Apokalypsis: Quarantine is chronologically the first play and is set in the spring of 2020. It involves a husband and wife who are separated when he is on a business trip and is stranded by the grounding of flights. Their story unfolds over a series of calls and messages.
When We Get Back to Normal is chronologically the third play and is set in the spring of 2021. In it, two colleagues from the same large company, but in different locations and who have never met, are the only ones to show up for a scheduled video conference meeting. Their separate stories reveal their mutual loneliness and grief.
The plays will be performed by Abbott, Christine Probst, and Lolly Foy, a Minnesota based professional actress, director, singer and acting teacher, who, like Probst and Abbott, has had a decades-long professional theatre career. (Foy and Abbott trained together early in their careers.)
The company is also working with Philip Taylor, founder and CEO of Morpheus Marketing in Luxembourg, who will be doing the video editing and assisting with marketing.
Additional information about the company can be found on the Actors Rep website -- Actors Repertory Theatre Luxembourg.