All Bottled Up: Best of Classic Alley Performers
By Classic Alley Performers
Written by Classic Alley Performers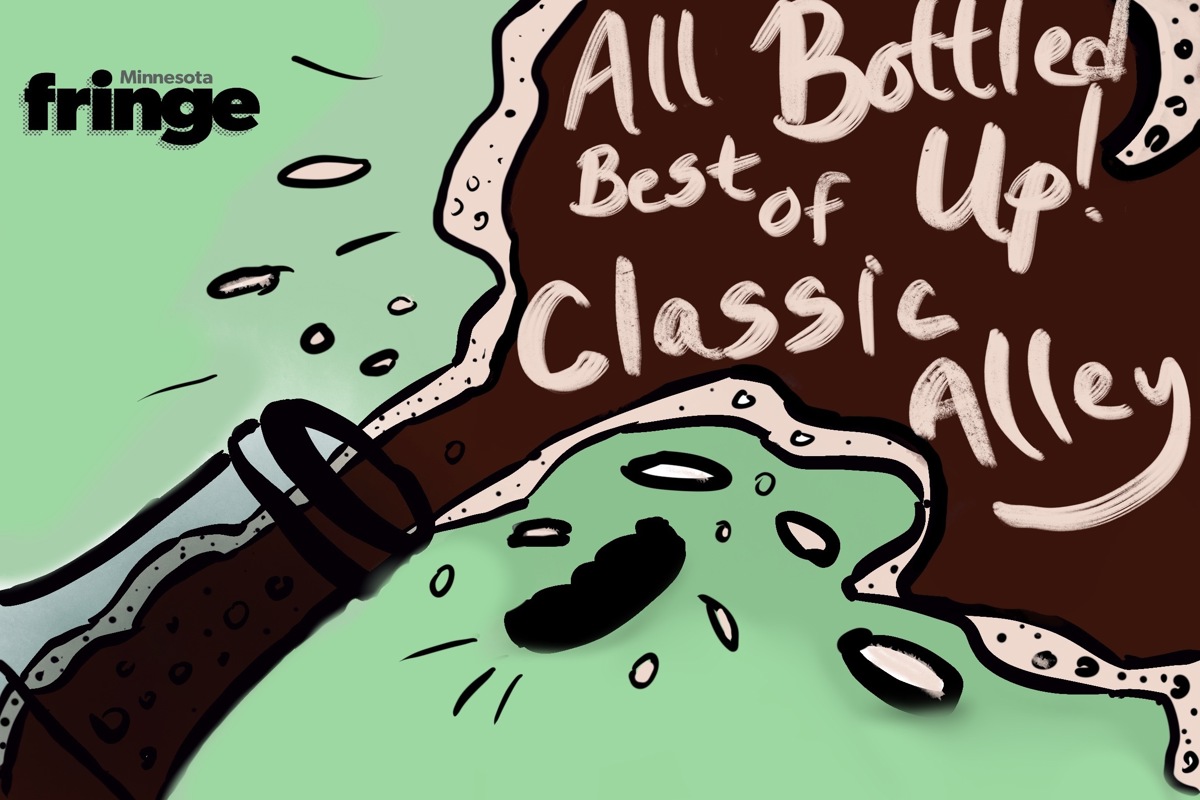 Playing at
Show Description
The members of the sketch comedy group, Classic Alley Performers, have reconvened to bring you their favorite clips from their 2020-2021 virtual shows.
Genre and Content
Content Warnings
Adult language,Crude Humor,Violence
The creators say this show is appropriate for ages 16 and up
Learn How To Fringe
Seat Reservations and Show Tickets
| Add to Schedule | Date | Time | Ticket Options | Quantity | Purchase |
| --- | --- | --- | --- | --- | --- |
Reviews
Video Trailer
Cast and Crew
More Information
Classic Alley Performers on Facebook
Additional Cast Bios:
Katie Wilson: Katie isn't funny, because women aren't funny. She is also a huge know-it-all and frequently lets her emotions get the best of her (Classic feamle). She also hates sarcasm.
Brian Scot: Improvisor and sketch comedian Brian Scot is a curious fella. While many people spend their days reviewing spreadsheets and other business, Brian is wondering: Who was the first person to actually agree to LASIK surgery? How is bubble wrap made? Why do buttcracks end?
Rachel Johnson: Rachel is a bubble prize machine aficionado and miniature collector who prefers to live life on 8-wheels.
Will McDonald: Will McDonald has been writing and performing sketch comedy in Minneapolis for the last 103 years. Having escaped certain death by firing squad, Will, the sole surviving member of the Romanov family, has appeared in shows at HUGE, Strike Theater, and with Classic Alley.
Nicole Weber: Nicole's cats are plotting her demise. They're way smarter and funnier and better looking than her and they're definitely not writing this bio.
Christopher Pitner: Loves eating beans. Beans are the lifeblood of his frequent toots.
Matt Mills: Matt is an amateur ice cream taste-tester and professional nothing. Limited by a small, unreliable brain, and devoid of any useful, real-world skills, he crawls the streets of Minneapolis at night searching for a sense of purpose that he'll never find. He also recently received a box of Dunkaroos that did not live up to his memory. Lanky and strange, we do not recommend.
Jeremy Johnson: Jeremy is a bit of an asshole who thinks he knows what's best for everyone around him. He is probably the smartest person in the room, and often could solve the problems you are discussing if you would only ask him. He can lick his elbow, which is most important, and a prized talent. When he is not judging the intellectual inferiors around him, he is judging the poor acting and writing on network TV shows that are raking in millions more per creative episode than he will likely make in his lifetime.
Meredith Jacobs: Meredith can't talk right now - she's watching yet another true crime docuseries and questioning her life decisions.