Against the Odds: Rachel Carson and the Writing of Silent Spring
By Rippling Stories
Created by Katie Knutson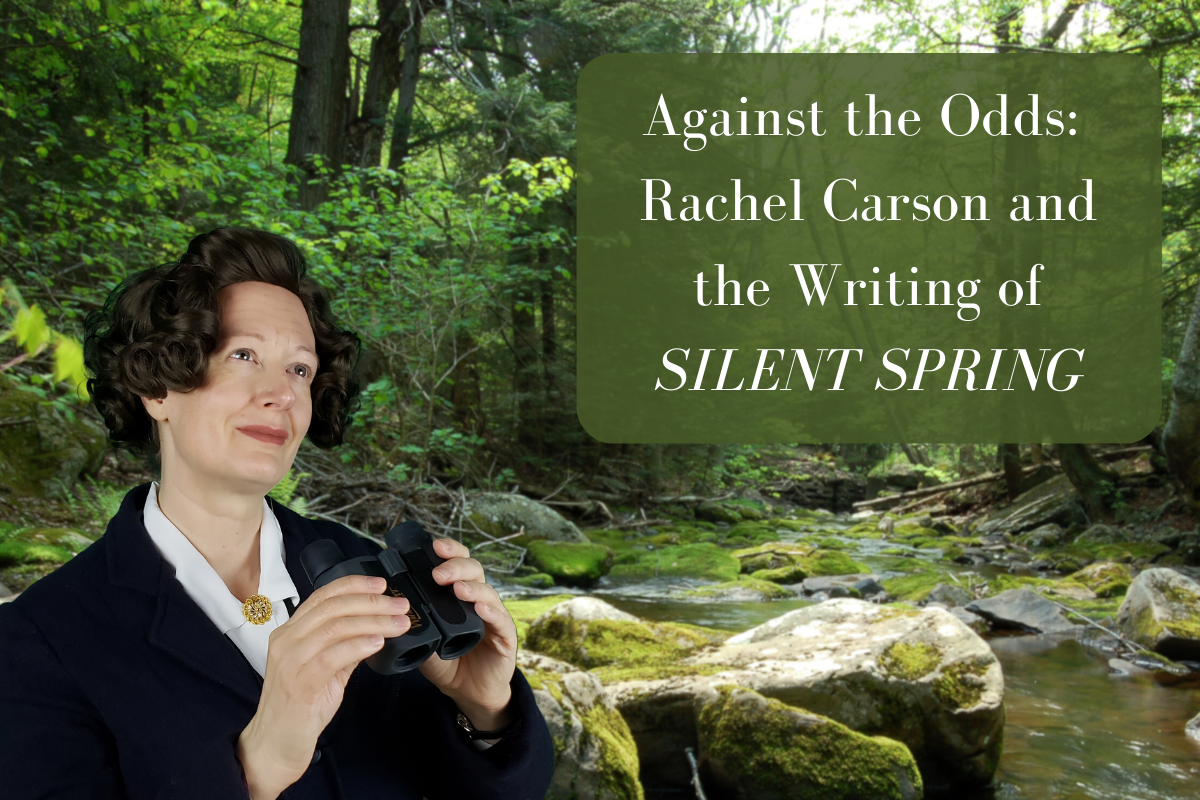 Playing at
Show Description
"Nothing I could do would be more important." Carson overcame obstacles that would have stopped most of us. She persevered to write Silent Spring and become the "Mother of the Modern Environmental Movement."
Genre and Content
Content Warnings
The creators say this show is appropriate for ages 12-15 and up
Learn How To Fringe
Seat Reservations and Show Tickets
Add to Schedule
Date
Time
Ticket Options
Quantity
Purchase
Sat 08/05
8:30 PM

Pre-sale closed

Online sales end at 11:59pm the day before the show, or when 70% of the house is sold.

Sun 08/06
10:00 PM

Pre-sale closed

Online sales end at 11:59pm the day before the show, or when 70% of the house is sold.

Thu 08/10
7:00 PM

Pre-sale closed

Online sales end at 11:59pm the day before the show, or when 70% of the house is sold.

Fri 08/11
5:30 PM

Pre-sale closed

Online sales end at 11:59pm the day before the show, or when 70% of the house is sold.

Sun 08/13
4:00 PM

Pre-sale closed

Online sales end at 11:59pm the day before the show, or when 70% of the house is sold.
Reviews
Reviews for: Against the Odds: Rachel Carson and the Writing of Silent Spring
---
Video Trailer
Cast and Crew
Katie Knutson
Performer/Researcher
In her 25 years as a storyteller and 18 years as teaching artist, Katie Knutson has delivered residencies, performances, and classes to around 40,000 children and adults on four continents. This is the 17th fringe show Katie has been in, including the audience favorite "The Grimmer Side: Classic Stories for a Modern Time." She has been a featured performer at international storytelling festivals in Italy and the United Arab Emirates, and has performed and taught in Chile and Canada. She is the Executive Director of Northeast Storytelling (NEST) and has served on the Boards of Story Arts of Minnesota (SAM), Northlands Storytelling Network, the National Storytelling Network (NSN), and Youth, Educators & Storytellers (YES). In addition to writing and curating the "New Voices" column in Storytelling Magazine for 9 years, Knutson also contributed to Tomorrow's Storytellers Today (Cordi, Parkhurst Brothers, 2021), Science with Storytelling: Strategies for the K-5 Classroom (Stenson/Norfolk/Ford, McFarland, 2017), and Storytelling Strategies for Reaching and Teaching Children with Special Needs (Norfolk/Ford, Libraries Unlimited, 2018). When she isn't performing or running things, you can usually find her digging in her garden, snuggling with her cats, playing board games with her family, or enjoying nature. Find out more about Katie and her company, Rippling Stories, at www.ripplingstories.com.
Kate Kunkel Bailey
Prof. Grace Croff (8/5 only)
Hi. I'm Kate. I'm a Twin Cities-based performer, writer, and artist; the accidental founder of a pretty rad community creative space in South Minneapolis; and a connoisseur of comfy pajamas. If you're interested in booking or collaboration, you can find me at katekunkelbailey.com
Cole Sarar
Prof. Grace Croff (all other dates)
My name is Cole Sarar. I am a writer, photographer, and tech-artist based in Minneapolis, MN. I write plays, web-based fiction, and both "page" poetry and "stage" poetry. I've won grants and fellowships for my performed and tech-poetry, including a State Arts Board Grant, a VERVE grant, and Emerging Writers Grant through the Loft Literary Foundation and the Jerome Foundation. I've been published in Paper Darts, Anatomy+Etymology, Write Bloody's "Aim for the Head" anthology, Midwest Literary Magazine, Pilgrimage Magazine, and University at Buffalo's Master of Fine Arts Thesis Publication. I've created public, interactive literary pieces in collaboration with local writers, using phone technology and simple physical design, with Ring Ring Poetry and Literary Device. I've collaborated on other interactive public art projects, like the Art Shanty Projects (2010, 2012, 2014, 2018), MN0 Puzzle Quest, and Journey to the End of the Night Minneapolis. I've supported local artists with marketing design and digital phone programming. A lot of my art falls along the intersection of technology and literature. I use code and tech, but also simple physical items like paper to create surprising art. I use words, but seldom published or performed as expected. Another aspect of my art is interaction with other writers and artists- I believe that we do our best work when we lift each other up and cross-pollinate our work, and the artists who have worked with me have made many of my projects more interesting and compelling than they would have been as solo projects. More at inktea.com
More Information
"I was captivated by Katie Knutson's portrayal of Rachel Carson. One of the most rewarding [nights] I've spent in a long time."

~ Audience Member, Humanities North Dakota
Rachel Carson was an introvert, but that doesn't make her any less of a powerful, brave, important woman. She found her way to make a difference through writing.
Before 1961, Rachel Carson was best known for her poetic, accessible writings about sea life that encouraged countless average Americans to think and care about nature. Those three best-selling books about the sea helped the public understand the ocean, its life, and its evolution. When the National Council of Women announced that Rachel Carson had won their Book Award for The Edge of the Sea, the caption read, "Miss Carson has successfully invaded a man's field, and with a poet's eye, a scientific mind, and a woman's intuition, has taught the world to wonder."
When Carson connected the mysterious deaths of animals to the new chemicals widely used by the government and individuals, she reluctantly began writing Silent Spring. Her well-written, thoroughly-researched book, which was first previewed in The New Yorker, became an immediate best seller. Still considered one of the most important and influential books in US History, Silent Spring prompted an outcry from chemical companies. Carson faced the attacks on her character and gender with grace, humor, and dignity – rebuffing propaganda with facts and studies. She testified before the House and Senate on the dangers of DDT and similar broad-spectrum chemical pesticides shortly before her death in 1964.
Now considered the mother of the modern environmental movement, Rachel Carson made our world a safer place. The formation of the EPA and Greenpeace, the Environmental Defense Fund, the Endangered Species Act, and the banning of DDT can all be tied to Carson's work, even if she did not live to see these fruits of her labor. In this performance, you will meet Rachel Carson after the publication of Silent Spring. She will share about her writing process and the obstacles she had to overcome to complete the book. You may also have the chance to ask questions of Rachel Carson and/or Katie Knutson.
To learn even more about Rachel Carson, check out this handy web page: https://www.ripplingstories.com/performances/carson