A Girl Scout's Guide to Exorcism
By Melancholics Anonymous
Created by Rachel Ropella and Timothy Kelly
Playing at
Show Description
In the summer of '08, plucky Troop 172 summons Rosalie Barrow Edge, a militant environmentalist obsessed with hawks and vengeance. Join the Girl Scouts at Camp Nawakwa as they earn their first exorcism badge!
Genre and Content
Content Warnings
Adult language,Blood,Loud noises,Violence
The creators say this show is appropriate for ages 16 and up
Learn How To Fringe
Seat Reservations and Show Tickets
Add to Schedule
Date
Time
Ticket Options
Quantity
Purchase
Thu 08/03
10:00 PM

Pre-sale closed

Online sales end at 11:59pm the day before the show, or when 70% of the house is sold.

Sun 08/06
2:30 PM

Pre-sale closed

Online sales end at 11:59pm the day before the show, or when 70% of the house is sold.

Wed 08/09
7:00 PM

Pre-sale closed

Online sales end at 11:59pm the day before the show, or when 70% of the house is sold.

Thu 08/10
5:30 PM

Pre-sale closed

Online sales end at 11:59pm the day before the show, or when 70% of the house is sold.

Sell out risk

Sun 08/13 ASL
8:30 PM

Pre-sale closed

Online sales end at 11:59pm the day before the show, or when 70% of the house is sold.

Sell out risk
Reviews
Reviews for: A Girl Scout's Guide to Exorcism
---
Video Trailer
Cast and Crew
Rachel Ropella
Director/Co-Writer
Rachel Ropella is a Midwestern director, theater maker, and a proud Girl Scout of Troop 193. She is a graduate of St. Olaf College, DirectorWorks, and the National Theater Institute. She was recently a Directing/Dramaturgy Apprentice at Portland Stage for the 2022-2023 Season. Co-founder of Melancholics Anonymous, she's spent the past four years directing new works at the Minnesota Fringe. Later this August, she is directing J.E.N. (Or, Jen's Evolution is Nigh) at the Edinburgh Fringe Festival. @rachel_ropella
Timothy Kelly
Company Manager/Co-Writer
Timothy Kelly (he/him) is a chemist-by-day-artist-by-night and cofounder of Melancholics Anonymous. Although he has adored his work with other local companies (Brick By Brick Players, Church Basement Shakespeare, and Gremlin Theatre to name a few), bringing his company back to MN Fringe for the fifth successive year feels like a homecoming. Enormous thanks to the festival and our collaborators for enabling our melancholy!
Claire Chenoweth
Maia
Claire Chenoweth (she/her) is a Twin Cities-based performer, teaching artist, director, and poet. Passionate about intentional and ethical storytelling, Claire is a vocal advocate for intimacy direction and is working toward her own practice in the field. A graduate of St. Olaf College and the National Theatre Institute, she is thrilled to once again be combining two great loves; MN Fringe and Melancholics Anonymous. Other enthusiasms include stage combat, creative play, puppets, and relearning the violin.
Anneliese Garner
Samantha
Anneliese Garner is delighted to return to the Minnesota Fringe Festival! Discerning audience members may remember her voice and costume design in Melancholics Anonymous' A Day With the Newhearts. Most recently, she costume designed Five Lesbians Eating a Quiche with MA and appeared in The Winter's Tale with Church Basement Shakespeare. Though never a Girl Scout, Anneliese can tie a bowline and sing Bobo Ski Waten Taten with the best of them.
Meredith Enersen
Roxxy
Meredith is thrilled to be performing in her MN Fringe debut with Melancholics Anonymous! This will be her second time acting with Melancholics, and other recent shows include A Sweeney Todd Thanksgiving by Melancholics Anonymous and The Winter's Tale with Church Basement Shakespeare. Aside from acting Meredith enjoys gardening and playing board games with friends! She only made it to brownies in Girl Scouts, unfortunately.
Samantha Miller
Fudge
Samantha Miller (they/them) has been in Minneapolis just over two years after moving from Utah. After graduating with a BFA in Theatre Performance and moving to Minneapolis, they have worked with Melancholics previously as Vern in 5 Lesbians Eating a Quiche, as well as Beatrice in Much Ado About Nothing and RiffRaff in The Rocky Horror Show. They are grateful for the opportunity to be working in this year's Fringe and with Melancholics again.
Bee Davis
Badger
Bee Davis is a Twin Cities actor. Their recent credits include 5 Lesbians Eating a Quiche, The Winter's Tale, and Uncle Vanya. Bee is delighted to be joining Melancholics for Fringe for the third time, and even more delighted to be a part of this fresh, exciting production.
Aerin O'Malley
Britt
Aerin loves summer camp and Melancholics Anonymous. She is pleased that this show has allowed her to return to both! Other credits include Lakeshore Players: Singin' in the Rain, St. Olaf College: You Never Can Tell, Proof, The Comedy of Errors, and Melancholics Anonymous: Horse Girls. Choreographer - Off-Broadway Musical Theater Company: Joseph and the Amazing Technicolor Dreamcoat, The Sound of Music. Aerin favors the bottom bunk, tries to avoid swimmer's itch at all costs, and will put in a good fight to win Cabin of the Week.
Jeffrey Nolan
The Hawk
Jeffrey Nolan is thrilled to be back with Melancholics, having last been seen in A Sweeney Todd Thanksgiving. Recent credits include Sherwood (Theatre in the Round), Noises Off (Lakeshore Players), and The Closing Night Audience Q&A for Rocco's Crimes (alleged Theatre). Catch Jeffrey in Fargo: Allegro (Nightfall Productions), also in the Fringe Festival! After being in this show, he now lives every day by the Hawk Motto: "Smile!"
Mady Smith
Set/Props
Mady is thrilled to be returning to the (back)stage as Melancholic's set/props coordinator, having last worked on the company's recent production of Five Lesbians Eating a Quiche. She also hates writing about herself, especially in the third person, so her bio shall now conclude.
More Information
"What is this love of birds? What is it all about?
Would that the psychologists might tell us..."
- Rosalie Barrow Edge
From the company that brought you A Day with the Newhearts (2022), On Air: The Wuppet Time Murders (2021), Good Grief (and other ways to process loss) (2020), and 10 Minutes Between 1:50 and 2am (2019) comes a brand new spooky comedy!
A Girl Scout's Guide to Exorcism is a collage of camp memories, recollections of growing up during the 2008 recession, and a love letter to American Environmentalist, Rosalie Barrow Edge.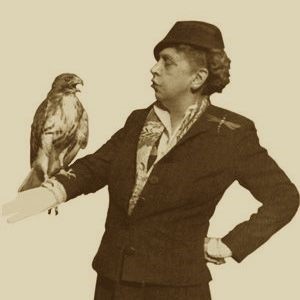 Yes, Mrs. Edge is real.
And yes, she truly was the one, the only, "indomitable hellcat in the history of conservation."
Melancholics Anonymous, winner of a 2022 Minnesota Fringe Venue Pick award, is thrilled to produce for their 5th year in a row! Established at St. Olaf College in 2019 and now based in the Twin Cities, Melancholics is an independent theater company that searches for the strange within the ordinary, illuminating the bitter in the sweet.
Learn more about Melancholics Anonymous at: https://www.melancholicsanonymous.org/