Choose Your Own Fringe Adventure
By Lady Z Productions
Created by Maureen L. Bourgeois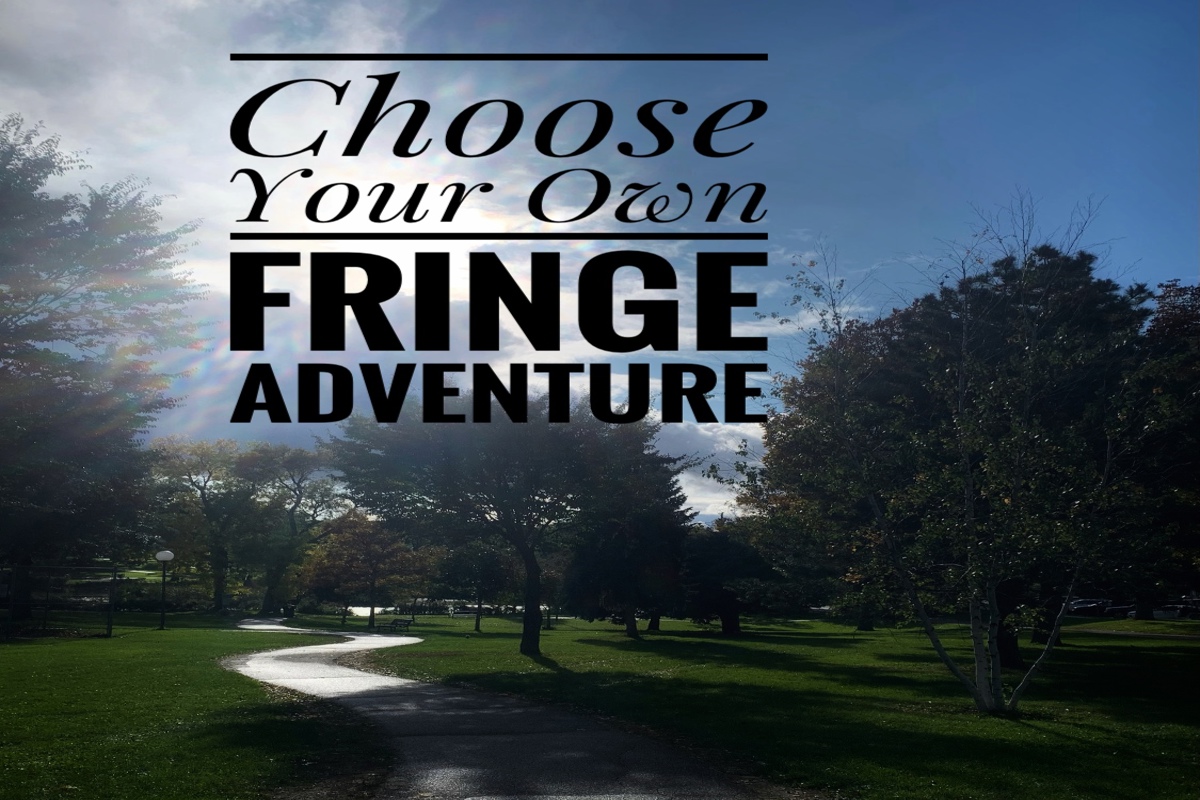 Playing at
Show Description
An unknown exciting adventure awaits for Jack, and they need your help. Are you up to the challenge? What will happen when you choose? This dark comedy involves creative twists aided by audience participation.
Genre and Content
Content Warnings
Adult language,Crude Humor,Flashing lights,Loud noises
The creators say this show is appropriate for ages 12-15 and up
Learn How To Fringe
Seat Reservations and Show Tickets
Add to Schedule
Date
Time
Ticket Options
Quantity
Purchase
Sat 08/05
1:00 PM

Pre-sale closed

Online sales end at 11:59pm the day before the show, or when 70% of the house is sold.

Mon 08/07
10:00 PM

Pre-sale closed

Online sales end at 11:59pm the day before the show, or when 70% of the house is sold.

Thu 08/10
5:30 PM

Pre-sale closed

Online sales end at 11:59pm the day before the show, or when 70% of the house is sold.

Sat 08/12
7:00 PM

Pre-sale closed

Online sales end at 11:59pm the day before the show, or when 70% of the house is sold.

Sun 08/13
8:30 PM

Pre-sale closed

Online sales end at 11:59pm the day before the show, or when 70% of the house is sold.
Reviews
Reviews for: Choose Your Own Fringe Adventure
---
Video Trailer
Cast and Crew
Maureen Bourgeois
"Sweets Collins - The Host"; Show Creator
Maureen L. Bourgeois is a local writer, actor, director, and founder of Lady Z Productions. She has enjoyed bringing the original plays "The Move", "The Story of You and Me", "Family Dinner", Campsite", and "Daybreak Diner" to the Minnesota Fringe Festival, as well as participating in the 2015 and 2017 festivals (as Stage Director of "The Clever Artifice of Harriet and Margaret" and as an actor in "Pope Joan" respectively). Maureen has also recently performed in staged readings with Shadowhorse Theatre / A Drinking Game Minnesota ("Archer", "10 Things I hate About You", "Mean Girls", & "Mama Mia") and Threshold Theatre ("Lemuria", "Leviathan", & "Zero State"). She loves being a part of many aspects of theatre and has designed props for Mixed Blood Theatre, Lex-Ham Community Theater, and Theatre in the Round. Maureen is passionate about bringing dynamic stories and characters to the stage using actors of all ages and backgrounds, and especially enjoys writing for and directing youth performers.
Molly Murray
"Max - Audience and Show Manager, Dynamic Background Actor"
Molly moved to the twin cities 15 years ago to attend college and fell in love with the community. Starting her career as a live sound tech and quickly advancing to event coordination, she became connected to the local arts scene and loves the technical side of event production. She's excited to continue her Fringe adventures!
Beatrix Rhone
"Marly - Show Assistant and Audience Engager, 'The Niece', Dynamic Background Actor"
Beatrix Rhone is fifteen year old aspiring actress. She goes to school at Saint Paul Academy and Summit School and participates in Circus Juventus. She has been in several shows around the Twin Cities. Beatrix worked with the director, Maureen, in last year's Fringe show called "Daybreak Diner".
Jex Arzayus
"Player 1"
Jackson Hoemann
"Player 2"
Jackson Hoemann is a Twin Cities-based Actor, Director, Writer and Educator, and a recent graduate of Marquette University, where he got his B.A. in Theatre Arts with a minor in Public Relations. Professionally, he has worked most recently with Lakeshore Players Theatre in Calendar Girls as well as one of the directors with their 19th Annual 10 Minute Play Festival. You can also see him frequently performing with the St. Paul Saints(@porkjester_saints). Hope you enjoy the show!
Janelle Kloth
"Drae"
Janelle is thrilled to be back at Fringe with "Choose Your Own Fringe Adventure"! You may have seen her last year in the horror improv show "Slender Vale" in which she enjoyed being her spookiest self. Now she is excited to embark on this new adventure chosen by you! Beginning her improv career in 2016 Janelle has performed all over the Twin Cities at theatres such as HUGE, Strike, and the Phoenix. Highlights include: her duo "Comfort Zone" (the secret agent spy show), "Off book", "The Dinner Detective" the murder mystery show, and The Minnesota Renaissance Festival. When not acting Janelle loves to dance both freestyle and choreographed, but K-pop has taken over her life. Check out her videos! Lastly she can be seen hosting trivia every Tuesday at Fat Pants Brewing in Eden Prairie. Follow her on all socials @janellekloth
Wesley Erickson
"Audience Engager, Dynamic Background Performer, 'The Stranger'"
Wesley Erickson is a Twin Cities Actor and Improviser. Studied Theatre at Main Street School of Performing Arts and at the University of Minnesota- Duluth. He has performed shows with the Huge Theater, Cromulent Shakespeare Company, Performing Institute of Minnesota's Emerging Professionals Esembe, Duluth's Act 2, and Hopkin's Park Productions. As for Film, Wesley has performed in several student films at the University of Minnesota and MCTC, and was featured in the official music videos for both Alt Rock band Thrice and the Hip-Hop artist Tone LaDon. Wesley has been highly active in the improvisational theater scene in Minneapolis since 2021 and has ventured deeper into the world of professional voice over, lending his voice to several projects.
Chris Mattson
"Dusty Monroe - The Other Host
After many years on the consumptive side of Fringe, Chris Mattson made his debut in Lady Z Productions' 2022 Fringe Production "Daybreak Diner". When he's not enjoying the theater scene in the twin cities; he works as an HVAC Controls Technician for Tempco; playing boardgames with his partner of 12 years, Sam; and attending fan run conventions both locally and across the country.
More Information
Improv Coordination: Jex Arzayus and Janelle Kloth
Fight Choreography: Jackson Hoemann