Extreme Roadshow
By John Orenstein
Written by John Orenstein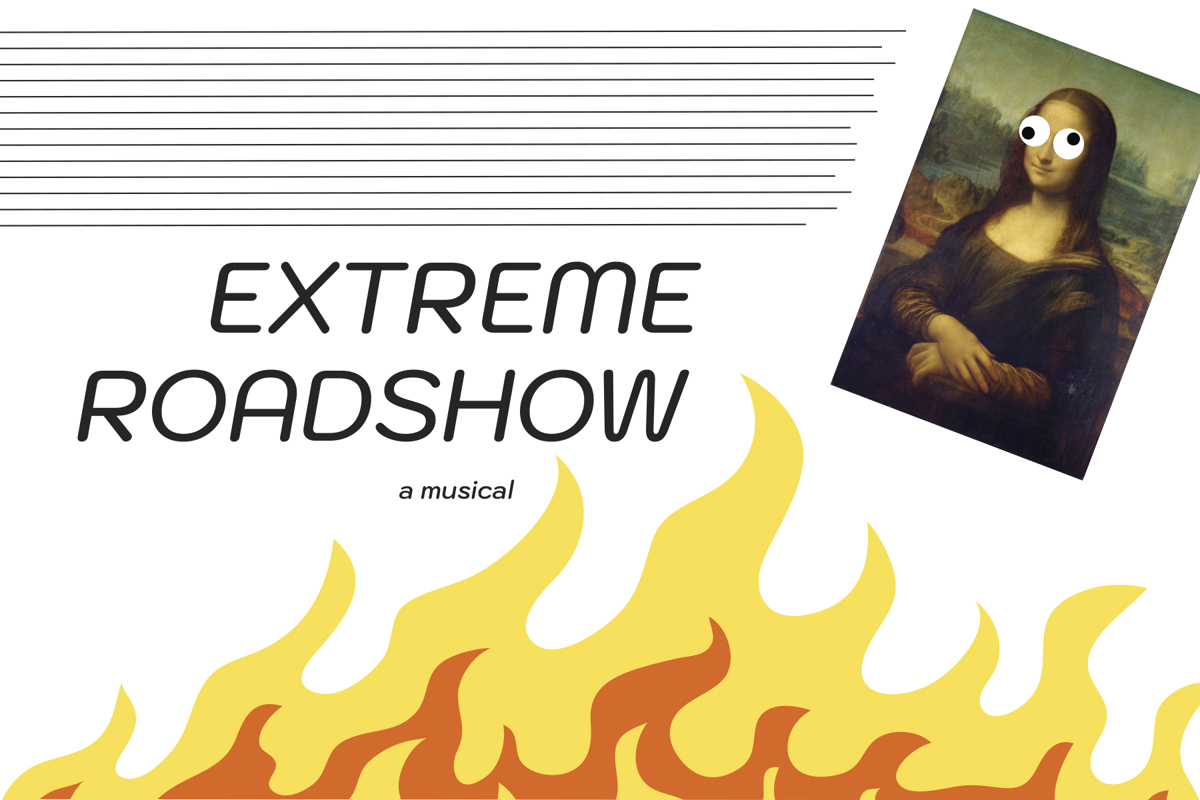 Playing at
Show Description
In this version of Antique Roadshow, worthless items are thrown into a fiery pit. A musical romp featuring a spittoon, the Mona Lisa, a diamond necklace, banjo clocks, and a surly mob. Love wins in the end.
Genre and Content
Content Warnings
Adult language,Flashing lights
The creators say this show is appropriate for ages 16 and up
Learn How To Fringe
Seat Reservations and Show Tickets
Add to Schedule
Date
Time
Ticket Options
Quantity
Purchase
Sun 08/06
2:30 PM

Pre-sale closed

Online sales end at 11:59pm the day before the show, or when 70% of the house is sold.

Sell out risk

Mon 08/07
7:00 PM

Pre-sale closed

Online sales end at 11:59pm the day before the show, or when 70% of the house is sold.

Tue 08/08
7:00 PM

Pre-sale closed

Online sales end at 11:59pm the day before the show, or when 70% of the house is sold.

Wed 08/09
7:00 PM

Pre-sale closed

Online sales end at 11:59pm the day before the show, or when 70% of the house is sold.

Thu 08/10
7:00 PM

Pre-sale closed

Online sales end at 11:59pm the day before the show, or when 70% of the house is sold.
Reviews
Reviews for: Extreme Roadshow
---
Video Trailer
Cast and Crew
John Orenstein
Writer (music, lyrics & book); PBS fundraiser
John Orenstein is an Oberlin-trained pianist who, with Debbie Orenstein (related by marriage), has been writing and performing comedy songs for over thirty years. He and Debbie were world famous in Lanesboro, Minnesota (their album, Three Blocks of Fame, is available on YouTube). After a career as a lawyer, John decided to write and produce a show as a new outlet for his primary legal skills, obsessing and worrying. He is deeply grateful for the talented people who are working so hard to bring Extreme Roadshow to life.
Barbara Wiener
Director
As a child Barbara Wiener grew up on the Atlantic Ocean where she wanted to be an astronaut; unfortunately motion sickness moved her away from that career choice. Currently, Barbara is an award-winning filmmaker whose work has been screened around the world—as far away as Shanghai and as close as the Minneapolis St. Paul International Film Festival and the Winona Frozen River festival. Her piece, Curious George Goes to Hell, screened at the Sundance Film Festival. Before her career in film, Barbara worked at the Guthrie Theatre and The Kennedy Center and received an MFA in directing. She lives in Minneapolis with a big dog and two irritating cats (to the dog that is).
Holly Brimhall
Woman with Mona Lisa
Holly Brimhall is from the Twin Cities and holds a BFA in Theater from the University of Montana, Missoula. She's worked with Missoula Children's Theater, Minneapolis Musical Theater, Chameleon Theatre Circle, Festival Theater, Jest Murder Mysteries, and Live Action Set. This will be her first time performing at the Fringe, and she's excited to be in a show with such a talented cast and crew. She loves all things performance and enjoys being an audience member almost as much as being on the stage. She's looking forward to a summer filled with music and theater events and brunches on sunny patios. She thanks her husband Riley for his unending support and nurturance of her passions.
Jacob Devine
Man with Banjo Clocks
Jacob Devine is an actor, playwright, director, coach, and teacher. He grew up doing plays and musicals in Little Falls, Minnesota, and studied theatre at Northwestern University in Evanston, Illinois. Jacob most recently appeared as Ned Schneebly in School of Rock (Curtains Up Theatre Company) and also acted in The Naked I: Insides Out (20% Theatre Company Twin Cities). His short plays have been performed at Northwestern University and Louisiana State University. Jacob also directs high school theatre, coaches competitive speech, and teaches high school English/Language Arts.
Nick Hager
Jason
Nick Hager is a native of Northfield, Minnesota who's relatively new to the Twin Cities theatre scene. Nick has had lots of experience on the stage, acting throughout his high school and college years in both school and community productions. He is very thankful for this incredible opportunity, and is hugely excited to take this next big step in his acting career.
Emma Johnson
Sam's Mom; Dance Captain
Emma Johnson is thrilled to be returning to the Fringe this year! She has a B.A. in Music from Bethel University. Some of her favorite shows she's been in are: A Year with Frog and Toad; Chicago; The Musical of the Musicals, the Musical; A Midsummer Night's Dream; The Velveteen Rabbit; Don Giovanni. She is currently co-writing a play and co-developing a podcast. She is thankful for this community which allows for people to be their silliest selves and to discover something new.
Maddy Kennard
Various
Maddy Kennard (she/they) is excited to be back on the stage and performing in the Fringe Festival for the first time! They enjoy visual arts such as photography and videography, hanging out with friends at the lake, writing and singing songs on the guitar and watching TV and movies with Marcel the cat.
Eric Lee
Man with Baseball Cards
Still a fairly recent Twin Cities transplant, Eric Lee (he/him/his) is delighted to be making his Minnesota Fringe Festival debut with Extreme Roadshow. Most recently seen here in DalekoArts' production of the musical "Once," he moved here at the beginning of 2020, after spending 2014-2019 with the Commonweal Theatre in Lanesboro, MN. He grew up in Des Moines, IA and received his Bachelors Degree in Theatre from the University of Evansville in 1999. Prior to arriving in Minnesota, Eric spent about six years in Chicago storefront theatres, returned to acting in Des Moines a few times, and was in Los Angeles for about a year.
Mallory Lewis
Tiffany
Mallory (they/them) is a classically trained actor who graduated from the UW Madison with a BS in Theatre and Drama - Acting Specialist degree in 2020. Additionally, they have trained privately under the tutelage of the Minnesota Opera House for four years. Their recent works include The Girl Who Swallowed a Cactus (Dust Cloud), The Giver (Mother), Much Ado About Nothing (Margaret), Henry IV (Part 2) (York), and Midsummer Night's Dream (Titania). Mallory feels honored to be performing Extreme Roadshow and The Definition of Loss at their Minnesota Fringe Festival debut!
Bella Maldonado
Emily
Bella Maldonado is an actress currently studying at the University of Minnesota. She recently appeared in local Minneapolis productions of SHAUN, Rocco's Crimes, One Stride Behind the Setting Sun, and Death of a Salesman. She's excited to perform in her first Fringe show, and hopes you enjoy Extreme Roadshow.
Debbie Orenstein
Al; PBS fundraiser
Debbie Orenstein is just like any other cast member, NO SPECIAL TREATMENT, even though she is married to the producer and writer of music, lyrics, and book. She has performed with the producer as one half of the amusing duo, The Singing Lawyers. Appearances include Over the Back Fence (Lanesboro), Dudley Riggs and Bryant Lake Bowl (Minneapolis), the Spindletop, Top of the Beekman Tower, and the Duplex (New York).
Lance Urbick
Sam
Lance Urbick is a Twin Cities stage, film, and voice actor and is happy to be returning to Fringe for the third time. Previously appearing in last year's Happy Endings Church and 2019's Not Here, Not Now, Lance has performed in various venues in Southeast Minnesota and Wisconsin, as well as in Z-Fest Film Festival locally. Notable past shows include The Diary of Anne Frank (Peter van Daan), You're a Good Man, Charlie Brown (Linus), The Awakening of Spring (Moritz Stiefel), Newsies (Morris Delancey), and Spamalot (Prince Herbert). Lance is a graduate of Winona State University with a BA in theatre arts and a minor in film studies.
Pamela Friedman
Choreographer
Pamela Friedman is grateful for the opportunity to be a part of this incredible group of artists and crew!
Anushka Srivastava
Stage Manager
Anushka Srivastava has been involved in every piece of theatre that she could since seventh grade. She just graduated from The Blake School and will be pursuing a BA in Stage Management at Pace University come fall. Some of her favorite shows that she's worked on include The 25th Annual Putnam County Spelling Bee and a musical adaptation of Twelfth Night, and Anushka is thrilled to add Extreme Roadshow to that list!