Funny, Like an Abortion
By EnCompass Theatre
Written by Rachel Bublitz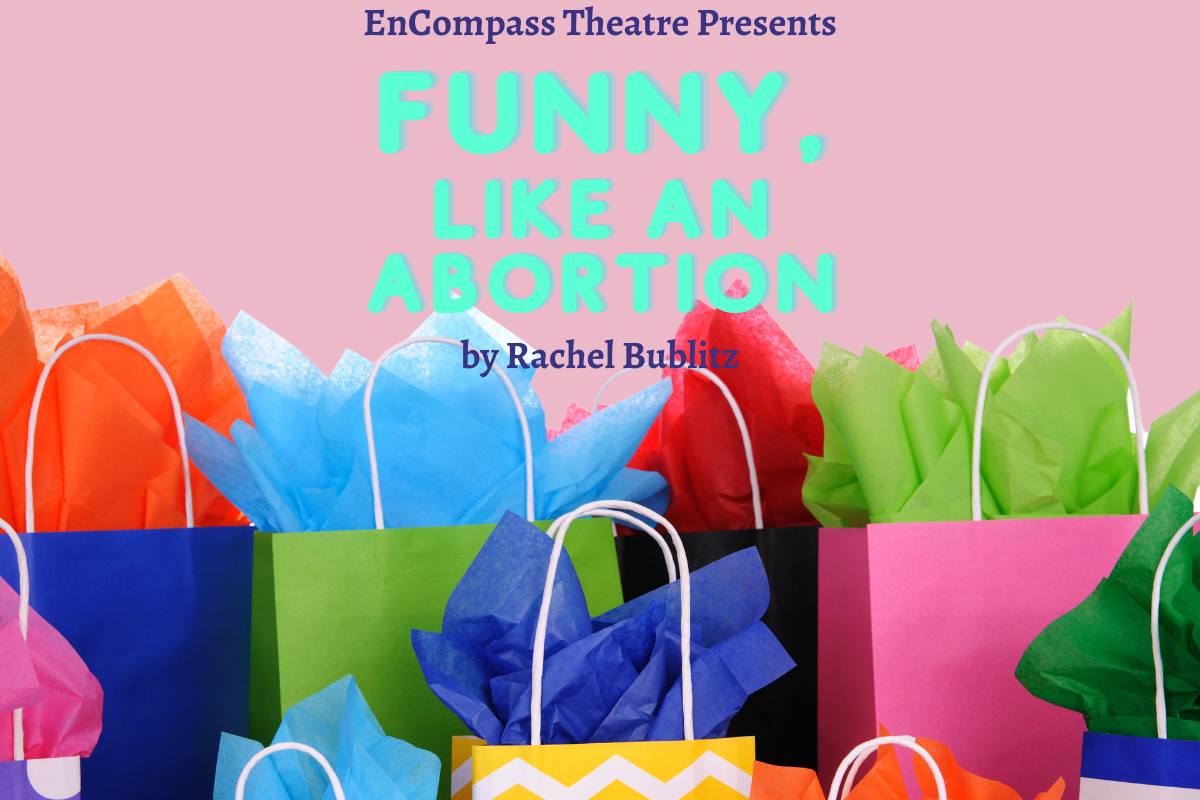 Playing at
Show Description
Monroe finds herself knocked up, and since abortions are illegal in the United States, she and her best friend Jade have an abortion party! A darkly comedic glimpse into a haunting future.
Genre and Content
Content Warnings
Adult language,Crude Humor,Sexual content,Other divisive content
The creators say this show is appropriate for ages 16 and up
Learn How To Fringe
Seat Reservations and Show Tickets
Add to Schedule
Date
Time
Ticket Options
Quantity
Purchase
Fri 08/04
10:00 PM

Pre-sale closed

Online sales end at 11:59pm the day before the show, or when 70% of the house is sold.

Sun 08/06
5:30 PM

Pre-sale closed

Online sales end at 11:59pm the day before the show, or when 70% of the house is sold.

Wed 08/09
8:30 PM

Pre-sale closed

Online sales end at 11:59pm the day before the show, or when 70% of the house is sold.

Sat 08/12
1:00 PM

Pre-sale closed

Online sales end at 11:59pm the day before the show, or when 70% of the house is sold.

Sun 08/13
7:00 PM

Pre-sale closed

Online sales end at 11:59pm the day before the show, or when 70% of the house is sold.
Reviews
Reviews for: Funny, Like an Abortion
---
Video Trailer
Cast and Crew
Casey Marie Holmes
Director
Casey Marie (she/her) is a Twin Cities based theatre artist who knows the role of actor, stage manager, dramturg, teacher and director for companies across the metro area including; Phipps Center for the Arts, Chain Reaction Theatre Project, Children's Theatre Company, St. Croix Festival Theatre, Locally Grown Theatre and Theatre Unbound. She started EnCompass Theatre in 2018 when she wanted to use theatre as a way to create discussion and change. Her passions include Theatre for Social Justice, Intimacy in the Theatre, and is a bad ass feminist; all which show through the theatre she produces.
Olivia Dubiel
Monroe
Olivia (she/her) is excited to be performing in her third show with Encompass Theatre Company and her third MN Fringe show. Her past theatre experiences in the Twin Cities include Grey with Encompass Theatre Company, Almost, Maine with Columbia Heights Fine Arts Foundation, and more. She graduated from UW-La Crosse with a degree in Theatre Performance. When she's not acting, she enjoys her job as a teacher! She would like to thank her scene partner Stephanie Kahle and her director Casey Marie Holmes for giving her a safe space to tell such an important story.
Stephanie Kahle
Jade
Stephanie Kahle (she/her) is an actor and stage manager in the Twin Cities. She graduated from University of Minnesota in 2020 with a BA Performance Creation and Management. Most recently she has worked with Sod House Theatre, Combustible Company, and an alleged Theatre Company (see their show: A Swimming Lesson in a Theatre Without a Lifeguard) When not performing she is chatting non-stop or playing with her pup Martini.
Gillian Constable
Butler Voice Over
Gillian (she/her) has been in EnCompass Theatre's productions since its beginning in 2017, so it seems only fitting to have her lend her voice to the ever hovering Butler.
David Holmes
Sound Designer
(He/Him) General techie, woodsplitter, and wine know-it-all, David is the resident sound and set guy for EnCompass Theatre. He'd like to thank his more intelligent and beautiful wife and he hopes you enjoy the show!
More Information
CW: Abortion, Mature Language, Political Content, Unsafe Medical Practices (DO NOT TRY ANY OF THIS AT HOME!)
About the show:
EnCompass Theatre, a cutting-edge theater company committed to topical and compelling productions, is proud to present "Funny, Like an Abortion" as part of the Minnesota Fringe Festival. Written by the talented playwright Rachel Bublitz, this thought-provoking dark comedy offers a glimpse into a haunting warning of the future in the United States.
In a society where choice has been stripped away, Monroe, the protagonist, finds herself unexpectedly pregnant. Determined not to succumb to oppressive laws, she and her best friend Jade devise a daring plan: an abortion party. This radical act of defiance sets the stage for a powerful exploration of friendship, resilience, and the fight for reproductive rights.
"'Funny, Like an Abortion' challenges the audience to confront the consequences of restricting access to reproductive healthcare," says Casey Marie Holmes the director and founder of EnCompass Theatre. "Rachel Bublitz's play delves into the complexities of this issue with a unique blend of humor and darkness, inviting audiences to question societal norms and consider the impact of such laws on women's lives."
EnCompass Theatre's mission is to encompass both the audience and the artist to create theatre that follows their moral theatrical compass. "At EnCompass Theatre, we believe in the power of theater to provoke thoughtful discussions and inspire change," says Holmes. "By engaging with topical issues that influence our communities, we aim to spark conversations and promote social justice and consciousness."
Join EnCompass Theatre in their commitment to create theater that is topical, compelling, and socially conscious. Experience "Funny, Like an Abortion" and be part of the conversation that explores the boundaries of reproductive rights and the resilience of the human spirit.
To learn more about EnCompass Theatre visit www.encompasstheatre.org
About the Playwirght:
Rachel Bublitz is an award winning and internationally produced playwright, from Salt Lake City, Utah, known for telling stories about women, and creating exciting new work for young performers.
For more visit: https://rachelbublitz.com/
Reasources:
Reproductive and Sexual Health Services:
Family Tree Clinic - Just the Pill - Red River Wimans Clinic - WE Heath Clinic - Whole Womans Health
Reproductive Finacial Help -
Hot Dish Militia - Our Justice - Indigenous Women Rising - National Network of Abortion Funds
Reproductive Legilation Reasources:
Unrestrict Minnesota - Abortion Everyday Newletter - Gender Justice - Pro-Choice Minnesota
National Abortion Federation Hotline : 1-800-772-9100
Supporting Our Justice:
All tips and donations will be split between EnCompass Theatre and Our Justice. Our Justice was founded in 1967 by a small group of doctors, clergy, and community members to assist Minnesota women in accessing abortion care. Our Justice supports people's reproductive and sexual human rights through their Abortion Access Fund, Abortion Assistance Lodging Program, and community advocacy grounded in reproductive justice.
Learn more about Our Justice