New Origins: Beauty and the Beast
By Two Minnie Cooks
Written by Aaron Cook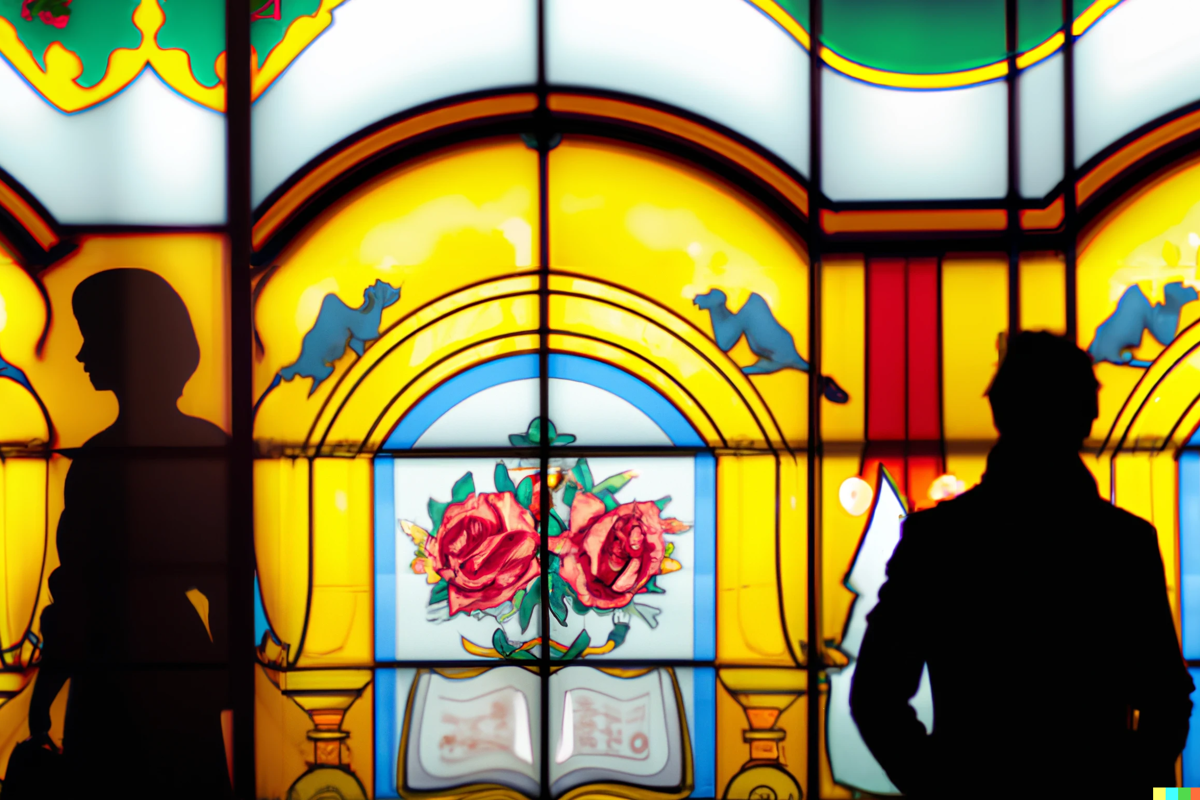 Playing at
Show Description
Explore the story before the fairy tale. Learn the true origins of how the Prince became the Beast. Journey with Belle as she navigates her feelings, and deals with a jealous sister that results in tragedy.
Genre and Content
Content Warnings
The creators say this show is appropriate for ages 12-15 and up
Learn How To Fringe
Seat Reservations and Show Tickets
Add to Schedule
Date
Time
Ticket Options
Quantity
Purchase
Sat 08/05
2:30 PM

Pre-sale closed

Online sales end at 11:59pm the day before the show, or when 70% of the house is sold.

Tue 08/08
10:00 PM

Pre-sale closed

Online sales end at 11:59pm the day before the show, or when 70% of the house is sold.

Wed 08/09 AD
7:00 PM

Pre-sale closed

Online sales end at 11:59pm the day before the show, or when 70% of the house is sold.

Sat 08/12
8:30 PM

Pre-sale closed

Online sales end at 11:59pm the day before the show, or when 70% of the house is sold.

Sun 08/13
5:30 PM

Pre-sale closed

Online sales end at 11:59pm the day before the show, or when 70% of the house is sold.
Reviews
Reviews for: New Origins: Beauty and the Beast
---
Video Trailer
Cast and Crew
Aaron Cook
Writer/Director/LeFou
Aaron Cook is a Minnesota native who grew up in St. Paul. He caught the acting bug early in life and it really took hold in High School at Cretin-Derham Hall. He performed in numerous shows and found his love of Improv. After High School, Aaron received his Bachelor's in Theater from St. Olaf College in Northfield, MN. He also studied theater at the British-American Drama Academy (BADA) in Oxford, England.

Aaron has performed with numerous theaters in the Twin Cities. His credits include: Midsummer Night's dream at the Park Square Theater and Perfect Wedding and Proposals at the Old Log Theater. Currently, Aaron is a regular troupe member with Stevie Ray's performing at the Comedy Cabaret in Chanhassen, MN.

Aaron would like to thank the cast and crew for all their hard work on bringing this show to life. He would also like to send a special thanks to his wife and two daughters who put up with rehearsals in the backyard for over two months.
Ava Jo Molzen
Belle
Ava Jo Molzen is thrilled to be back for her second year with Minnesota Fringe! Ava Jo is a performer, musician and director based in the Twin Cities. She has a BA in Theatre Performance and a minor in Dance from James Madison University. Recent credits include The Reluctant Dragon (Old Log Theatre), Princess & The Pea (Old Log Theatre), Once (Duluth Playhouse), and On a Stick: A Minnesota State Fair Musical (Minnesota Fringe). More information about Ava Jo and her career can be found at
avajomolzen.com.
Kaz Fawkes
Prince
Kaz Fawkes, a captivating force in the vibrant Twin Cities Theater Community. Over the past four years, Kaz has taken audiences on an unforgettable journey, leaving an indelible mark through extraordinary performances. From the evocative "Service Industry" by Threshold Theater to the triumphant "Best Audience Pick" win in Literally Entertainment's "On A Stick: A Minnesota State Fair Musical," Kaz's talent sets hearts ablaze. Their theatrical prowess knows no bounds, as demonstrated in the unforgettable role they played in Theatre Coup d'Etat's swashbuckling adventure "Pyrates" and the profound impact of Chain Reaction Theater's thought-provoking piece, "White Privilege." Adding to their accolades, this year, Kaz joined and harmonized with the Twin Cities Gay Men's Chorus for the Annual Pride Concert. Kaz Fawkes is a trailblazing presence—a Black Queer Actor, Playwright, and Director—who weaves extraordinary tales that shine a light on the lives of marginalized communities. To follow this remarkable journey, connect with Kaz @KazFawkes on IG/FB/TikTok. Prepare to be mesmerized!

Ellie Walton
Marguerite
Ellie hasn't had to memorize lines for a hot minute so she's excited to test her memory! Ellie has been performing at the Stevie Ray's Comedy Cabaret for the last five years and is stoked to perform with some amazing people. When she's not on stage, Ellie is playing with her dogs Pancake and Maple and writing new music. She'd like to thank her husband for supplying her with ice cream and kit kats after late night rehearsals.
Drew Atwood
Gaston
Drew has been performing since the age of 11. He was very inspired to begin performing by his grandmother, who frequently belted opera in her basement with a young Drew by her side. He performed through out middle and high school and began his professional career at the age of 19 performing in a production of the Music Man in his hometown of Bloomington, MN. From there, he auditioned for VStar Entertainment Group and completed 8 tours and toured internationally with productions of Sesame Street Live and more. Drew is very excited to return to the Fringe stage (first: The Office Musical: The Scranton Strangler) with familiar faces and new friends. Drew thanks all for their contribution to the theater community in Minneapolis and is ready to take all, hand in hand, on this new adventure. 🌹
Danna Sheridan
Mother
Danna Sheridan (she/her) is an improviser, storyteller, stage manager, and actor in the Twin Cities. She performs regularly with ComedySportz, and she has co-created a number of improv shows, including an improvised "Love is Blind" show, "5 First Dates", and "Let Me Say This About That" (winner of the "Spirit of the Fringe" award at the 2023 Tucson Fringe Festival). She's excited to sing for someone other than her three chihuahuas.
Rex Isom Jr
Father/King
Rex Isom Jr has been an entertainment artist for over 30 years, including performing comedy improv for over 25 years. This is his 2nd Fringe Festival Show, the 1st being 'Sleepless In MN (2008)'. Rex teaches improvisation, and is a troupe member like Aaron Cook, at Stevie Ray's Comedy Cabaret. Additionally, Rex has performed in many Twin Cities venues, including Penumbra Theatre, CTC, Brave New Workshop, The Guthrie, and the History Theatre. He's been in several mostly local TV commercials, and has also produced and written for stage and video - you can see his productions on his YouTube channel! Recently Rex played activist and poet Paul Dunbar for a few Juneteenth events. Rex truly appreciates this 1st opportunity to perform in one of Aaron's plays!
Lindsey Fallenstein
Piano Accompaniment
(She/Her) This is Lindsey's 6th Fringe show as a musician. She has been playing piano since childhood and has previously worked with Literally Entertainment playing for "Oregon Trail: A Musical", "Gilligan: A Tropical Musical", "RomCom-Con: A Meet-Cute Musical", and "The Scranton Strangler: An Office Musical", and "On A Stick." She wants to thank Brian, Graham, and Spence for helping and supporting her always!
Kyle DeGoey
Music and Lyrics
Kyle is excited to be working with Two Minnie Cooks for the first time. Other shows Kyle has written Music and Lyrics for include Encore and Golden Lanyard Award winners 'Oregon Trail: A Musical', 'Gilligan: A Tropical Musical', 'Romcom-Con: A Meet Cute Musical', 'The Scranton Strangler: An Office Musical' and 'On a Stick: A State Fair Musical'.
More Information
New Origins: Beauty and the Beast the musical is an imaginative prequel to the classic fairytale that presents an alternative foundation for Belle's love for the Beast. Come with us as we learn more about Belle's family and her dreams for love and happiness. You will meet a cast of new characters including a grieving king, as well as Belle's mother, Mathilde, and her sister, Marguerite who both have magic powers. The king's sorrow over the loss of his wife is so great, he issues a decree banishing anyone with magical abilities from the kingdom. Marguerite determines the only way she can be saved from banishment is if she can persuade Belle to marry the contemptuous Prince.
Belle is torn between her sister's traditional views of marriage and her own desire to follow her heart. Watch Marguerite, with the help of her bumbling betrothed, LeFou, cast a web of lies, deception and spells to convince Belle to marry the Prince. In the end Belle uncovers the treacherous plot to trick her, and the fate of her true love, Gaston. But is it too late?