Two Stars in the Vast Dark
By Found Creature
Created by Charlotte Grey & Theo Leverenz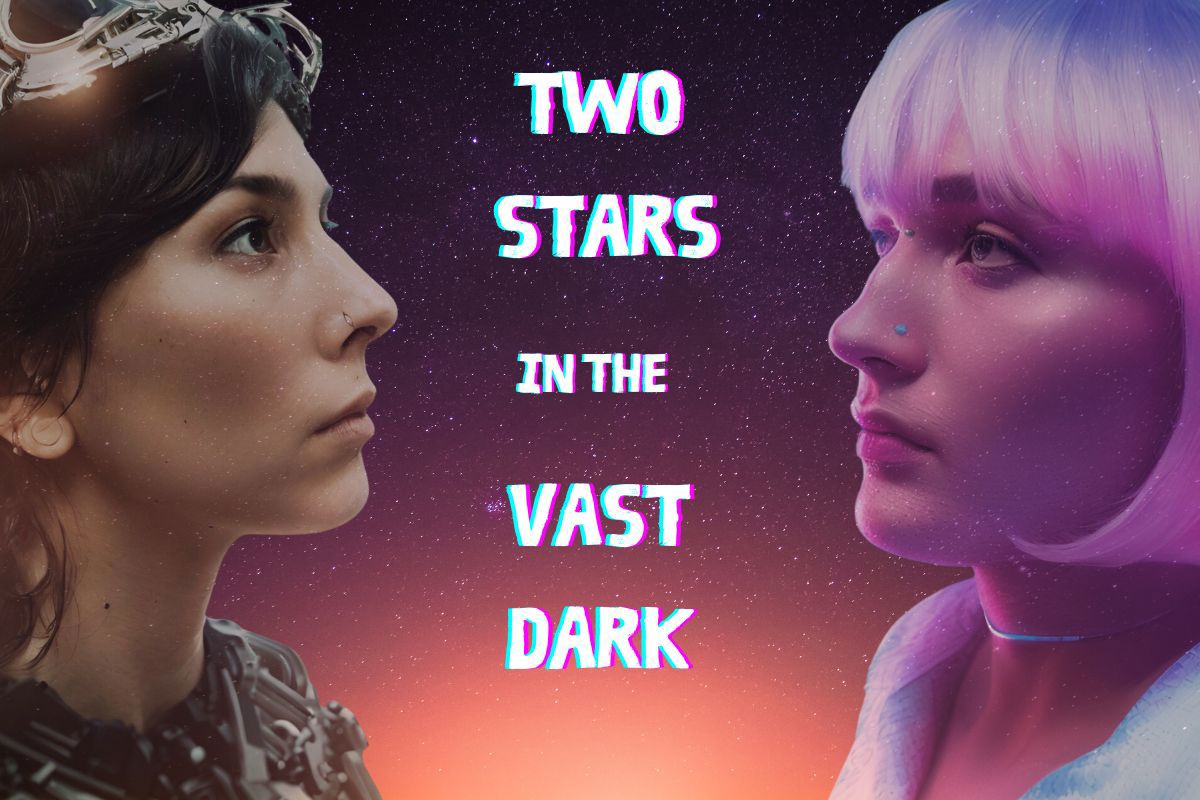 Playing at
Show Description
A trans-centric sci-fi event with original music & movement! A young space trucker & oddly self-aware bio-computer confront each other while stranded in the void. Can we connect across distance & difference?
Genre and Content
Content Warnings
Adult language,Flashing lights,Mental illness,Suicidal ideation/self-harm
The creators say this show is appropriate for ages 16 and up
Learn How To Fringe
Seat Reservations and Show Tickets
Add to Schedule
Date
Time
Ticket Options
Quantity
Purchase
Fri 08/04
7:00 PM

Pre-sale closed

Online sales end at 11:59pm the day before the show, or when 70% of the house is sold.

Sun 08/06
8:30 PM

Pre-sale closed

Online sales end at 11:59pm the day before the show, or when 70% of the house is sold.

Wed 08/09
5:30 PM

Pre-sale closed

Online sales end at 11:59pm the day before the show, or when 70% of the house is sold.

Sat 08/12
4:00 PM

Pre-sale closed

Online sales end at 11:59pm the day before the show, or when 70% of the house is sold.

Sun 08/13
1:00 PM

Pre-sale closed

Online sales end at 11:59pm the day before the show, or when 70% of the house is sold.
Reviews
Reviews for: Two Stars in the Vast Dark
---
Video Trailer
Cast and Crew
Charlotte Grey
Creator/The BARD system
Charlotte Grey (she/her) is a Milwaukee based musician and songwriter making her Fringe debut! She has been writing and performing original music under the name Deep Femme since 2016 and has loved science-fiction and fantasy basically since she learned to read. Two Stars in the Vast Dark began its life as an idea for a concept album inspired by songs about lonely space truckers and was further influenced by Charlotte's long fascination with AI. She's thrilled to share her electric dreams with Fringe and is so grateful for her collaborator and partner Theo for embarking on this great adventure with her.
Theo Leverenz
Creator/Ezra
Theo Leverenz (they/he) is an interdisciplinary artist with a long history of dance, theatre, writing and visual art performance and creation. Theo's first Fringe was in NYC in 2015 as part of the ensemble of Milwaukee Physical Theatre Company Quasimondo's "Kamikaze Cutesauce: Cosplay Club" and they are thrilled to return to Fringe as a creator and performer for Two Stars in the Vast Dark. Theo first met Charlotte in January of 2020 while performing avant-garde spoken word and movement at the neighborhood open mic night that she was hosting. After the pandemic hit, Theo and Charlotte became part of the same "pandemic pod" and began dreaming up future collaborations. Theo believes in creating the kinds of characters that resonate with the performer, and he is grateful to have this opportunity to bring Ezra, his first explicitly transmasc character, to life. Theo is super excited to be able to break his performance hiatus with his partner in life and creating and to premiere this stellar show!
More Information
Origins & Inspirations
This show began as an idea for a concept album in 2019. Milwaukee based singer-songwriter Charlotte Grey (aka Deep Femme) began to write songs featuring a lonely space trucker lost in the void after being exposed to "Pushing the Speed of Light." A mournful lo-fi folk song about the downsides of trucking at near relativistic speeds, "Pushing" immediately inspired Charlotte with its ability to confront relatable issues through a fantastical framework. Be sure to check out the link below to experience this masterpiece for yourself and if it leaves you wanting more ask Charlotte about Filk, the genre that spawned this song and many others like it. She will talk your ear off though, you've been warned.
Pushing the Speed of Light by Julia Ecklar and Anne Prather
When Charlotte met interdisciplinary artist Theo Leverenz in early 2020 the pair's first conversation was about collaboration, and the lonely space trucker. They each struggled to make art during the turbulent years of the pandemic, but grew ever closer, first as friends and then as romantic partners. In 2022 they decided to overcome their shared artistic drought with audacity and devise a brand new theater piece for the 2023 Fringe circuit. As they worked on what became "Two Stars in the Vast Dark" they drew inspiration from futurist sci-fi authors like Becky Chambers and shows like Adventure Time and Steven Universe. The piece transformed from a live album featuring dance to a fully fledged story, founded in the simple but profound attempts to know one's self and one another.
It would be impossible to discuss themes of isolation, self-discovery and connection without reflecting on the trans experience. While Theo and Charlotte have drawn from various outside influences to create TSitVD, the project is intensely personal. So many trans folks struggle with self-love, loneliness, and a desire to disconnect from a hostile world. TSitVD hopes to show that connection is always possible regardless of difference and while it may be easier to reject what we do not understand, our lives will be made infinitely more fruitful through shared vulnerability and understanding.
Accessibility
For folks who are hard of hearing or otherwise struggle to process audio a digital lyric booklet has been provided in the link below. The songs are a vital part of Two Stars in the Vast Dark and Charlotte and Theo want to ensure everyone can experience them. These lyrics do contain spoilers however, so it is not recommended that you read ahead unless it is necessary for your appreciation of the piece.
Gratitude & Contact
Theo and Charlotte would like to thank you for being a part of Found Creature Productions first ever Fringe experience! Enjoy "Two Stars in the Vast Dark" and please reach out to us with questions or comments at foundcreature@gmail.com
And follow us on Instagram @foundcreature
Yeah, But Where Can I Hear That Wonderful Music Again?
Thanks for your support and interest! You can find the songs right here: Two Stars in the Vast Dark (Demos)