Yes No Maybe (please explain)
By Sandbox Theatre
Created by Sandbox Theatre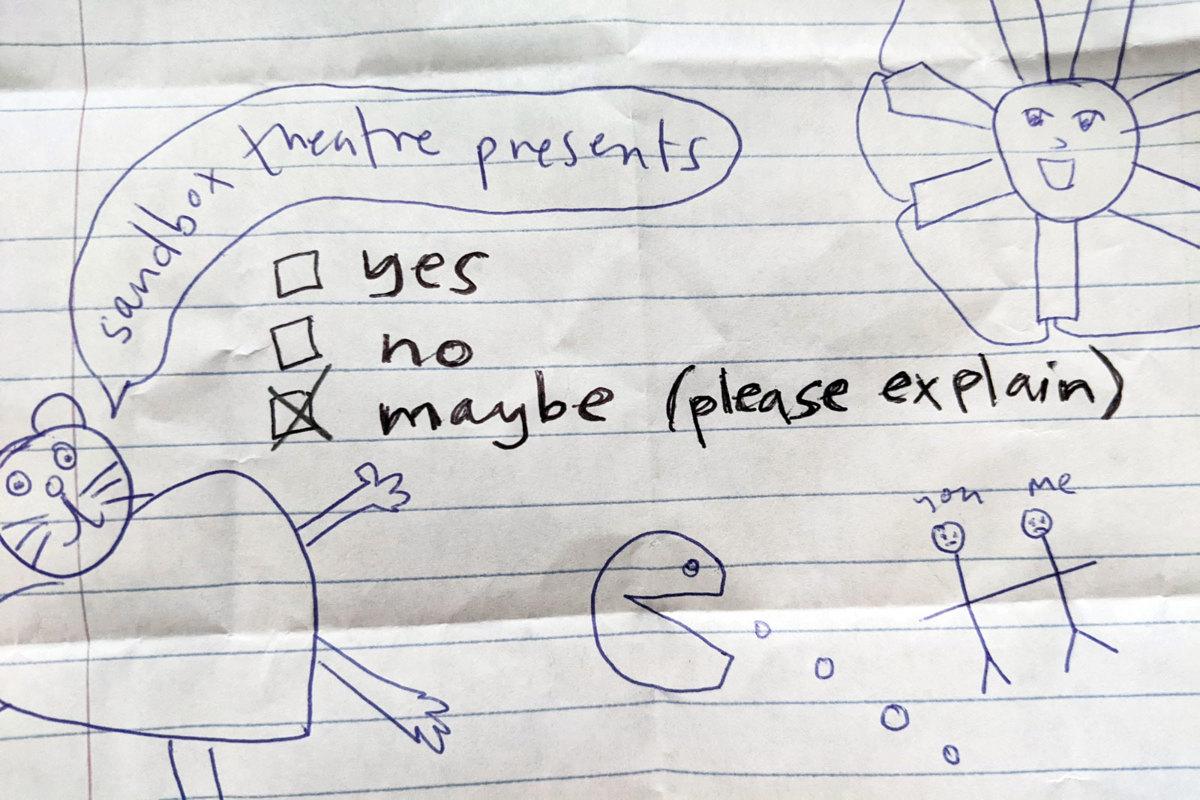 Playing at
Show Description
Step back into the 90's with this heartfelt, awkward, sometimes cringy look at Kristina's notes from high school.
Genre and Content
Content Warnings
Adult language,Crude Humor,Loud noises
The creators say this show is appropriate for ages 16 and up
Learn How To Fringe
Seat Reservations and Show Tickets
Add to Schedule
Date
Time
Ticket Options
Quantity
Purchase
Fri 08/04
10:00 PM

Pre-sale closed

Online sales end at 11:59pm the day before the show, or when 70% of the house is sold.

Sat 08/05
8:30 PM

Pre-sale closed

Online sales end at 11:59pm the day before the show, or when 70% of the house is sold.

Tue 08/08 AD
7:00 PM

Pre-sale closed

Online sales end at 11:59pm the day before the show, or when 70% of the house is sold.

Thu 08/10
5:30 PM

Pre-sale closed

Online sales end at 11:59pm the day before the show, or when 70% of the house is sold.

Sun 08/13
1:00 PM

Pre-sale closed

Online sales end at 11:59pm the day before the show, or when 70% of the house is sold.
Reviews
Reviews for: Yes No Maybe (please explain)
---
Video Trailer
Cast and Crew
Chasya Hill
Ensemble
(She/Her) Chasya Hill is a Liberian-American actress and vocalist from Birmingham, Alabama who has been based in Minneapolis since 2019. Her recent theatre credits include: Transatlantic Love Affair (These Old Shoes), Dangerous Productions (All Your White Darlings), Wild Conspiracy (Queen B), (Saber MN), Playable Artworks (Instructions for a Habitat Inventory), Sandbox Theatre (Bone Mother).She continues to explore her passion for abstract movement, physical comedy, world music and innovative reimaginings of traditional stories. She is fascinated by the power of consciously inclusive, visually rich, acoustically thoughtful, highly physical styles of storytelling to appeal to diverse contemporary audiences.
Charlie Henrikson
Musician/Ensemble
(He/Him) Charlie is a musician, visual artist and master snow fort builder living in Minneapolis. He performs with his rock band Silverseed and as a solo violinist in an ambient/classical genre. He has a thirst for adventure and bicycle touring as well as chopping wood and playing cribbage with his wife by their wood stove.
Evelyn Digirolamo
Production Team Lead
(She/they/ze) Evie is a collaborative artist who loves holding space for art as a way to connect to ourselves, others, and the earth. Her artistic homes are Upstream Arts and Sandbox Theatre. She is the founder of the Swingset- the aerial theatre branch of Sandbox.
Jada Pulley
Ensemble
(They/Them) Jada Pulley is a theater artist and hype man for marginalized voices here in Minneapolis. They are a staple of HUGE Theater, where they regularly produce and perform in improv shows, such as Bad Poets Society, DUH, and Based On A True Story. Jada also directs both the Queer and Funny Improv Festival and the Black and Funny Improv Festival.
Elizabeth Horab
Production Team Lead
(She/They) Elizabeth Horab is a theatre-maker who focuses on directing, playwriting/devising, and teaching. She last worked with Sandbox Theatre on their 2019 spring production of "The Golden Record Project", and her last time in the MN Fringe was in 2019 directing "Tess Jones : Space Archaeologist". Most recently, her play "When She Became Me" (which was first produced in the MN Fringe in 2016) had readings in San Jose this past January in honor of the 50th anniversary of Roe v. Wade.
Kristina Fjellman
Project Lead/Ensemble
(She/Her) Kristina is a visual artist and performer and is drawn to creative projects that will combine both of these passions. She has exhibited her sculpture in venues around the Midwest and Twin Cities and was a recipient of a Jerome Fiber Art Project Grant for 2010-2011 at the MN Textile Center. She is the co-founding member of The Winding Sheet Outfit, and an ensemble member of Sandbox Theatre. Recent previous Fringe shows include: "ÅRSGÅNG: What You Follow Follows You," "The Darger Project aka the Darger Project," "You Are Cordially Invited to the Life and Death of Edward Lear," and "The Memory Box of the Sisters Fox"
Megan Campbell Lagas
Musician/Ensemble/Production Team Lead
(she/her) Megan is a theatre artist, educator, and mother of cats, dogs, and humans from Minneapolis. She is a company member with Sandbox Theatre and core collaborator with The Winding Sheet Outfit. Previous fringe shows include Årsgång: What You Follow Follows You, The Darger Project aka The Darger Project, That Time Napoleon Was Attacked by Bunnies, the Five Fifths of the Matrix, The Memory Box of the Sisters Fox, Marie-Jean Valet Who Defeated La Bete du Gevaudan, and Birds of Passage.
Scobie Bathie
Stage Manager/Ensemble
(She/They) Scobie is an artist and creator in both theatre and other mediums. She is a graduate from NDSU with a BFA in Performance, but has been exploring the realm of stage managing since they moved to Minneapolis last July. This is Scobie's first time working with Sandbox Theatre, but they are excited to contribute to a new creative process and learn from other creative minds.
Mandi Johnson
Costume Design
More Information
Special Thanks to:
Peter Heeringa, Hannah Holman, Heather Stone, Ryan Hill, Jaya Robillard, Amber Bjork, Derek Lee Miller, and Lou Pepper & Roy Lagas for the toys.
This production marks Sandbox Theatre's 3rd time participating in the Minnesota Fringe Festival: June of Arc in 2009 and Marie-Jean Valet, Who Defeated La Bete du Gevaudan in 2014
About Sandbox Theatre and our process:
Sandbox is a collaborative ensemble company. That means there's no script when we start rehearsals. All the text, movement, music, and most of the story of Yes, No, Maybe (please explain) was generated during 14 days of intense workshopping (and 2 workshops prior to the start of rehearsals) led by Sandbox's creation process. So the performers aren't just tasked with memorizing lines and blocking - they're also playwrights, choreographers, dramaturgs, and directors of this play. It's an exhaustive and exhausting way to create theatre, but we believe the best art comes from many voices. It's intuitive, it's messy, it's inspirational, and it's terrifying. And we love it... we hope you do, too.
Sandbox Theatre was founded in 2004 in Minneapolis, Minnesota by four artists — Ryan Hill, Lisa Moreira, Andrew Lawrence Schiff and Heather Stone — who sought a place to play with new ideas and new forms of storytelling. The company came together out of backyard meetings between a playwright, a choreographer, an actor and a designer.
Since our first production Victoria In Red in 2005, the Sandbox ensemble has grown to a company of eight artists, still devoutly committed to creating visually rich, engaging new theatre stories.
The hallmarks of our work are visual dramaturgy (storytelling through design and movement) and our unique creation process. Our work is defined by an established, one-of-a-kind method of material generation and group editing; a guided collaboration that creates timely, affecting, inspirational plays.
Click here to find out more about our creation process!
Coming up next:
This winter, Sandbox Theatre will be bringing Trans Voices Cabaret to Minneapolis' Mixed Blood Theatre!
Follow us on Facebook or Instagram to get all the latest info!